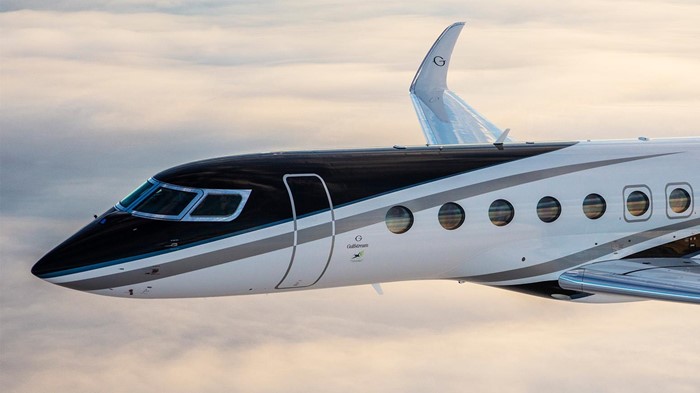 ---
A record-breaking Gulfstream G700 flight in mid-May was noteworthy in several respects for the upcoming 19-passsenger business jet and its manufacturer. Recorded in 13 hours at an average speed of Mach 0.89 en route from Gulfstream's headquarters in Savannah, Georgia, to Tokyo, the flight was also the G700's first trek to Japan. In addition, the trip pushed Gulfstream aircraft collectively beyond 2 million nautical miles (3,704,000 kilometers) flown on sustainable aviation fuel (SAF) blends. Gulfstream expects to enter the G700 into service this year, and reports that G700 flight test aircraft have set more than 40 speed records around the world.
A Sustainable Future
Gulfstream showcased the G700 at the 2023 European Business Aviation Convention and Exhibition in late May in Geneva, Switzerland, alongside its G280, G500, G600, G650ER and G800 business jets. The aerospace firm says all Gulfstream aircraft arrived to and departed from the trade show flying carbon neutral.
The General Dynamics-owned company says it recently became the first original equipment manufacturer (OEM) to receive National Business Aviation Association (NBAA) Sustainable Flight Department Accreditations in the flight, operations, ground support, and infrastructure categories. In December 2022, Gulfstream was also the first OEM to fly its aircraft (a G650) fueled on 100% SAF, thanks to a partnership with Rolls-Royce on the BR725 engine. Furthermore, Gulfstream was the initial business aircraft maker to sign the World Economic Forum's Clean Skies for Tomorrow 2030 Ambition Statement, with the goal of accelerating the supply and use of SAF technologies to reach 10% of global jet aviation fuel supply by 2030.
---
"We are innovating for a sustainable future and have been a leader in SAF use over the past decade," says Gulfstream President Mark Burns. "Our latest city pair speed record further showcases the investments we are making in our next-generation fleet, as well as the commitment we've made to the industry to reduce our carbon dioxide emissions by 40% over a 15-year span, leading into 2034."
The G700
Introduced in 2019, the G700 has picked up several awards while piling up speed records, including International Yacht & Aviation Awards in 2020 and 2022 for its all-new Classic Seat and cabin design, respectively. Gulfstream says the plane boasts the industry's most spacious cabin and its only ultra-galley, which provides over 10 feet (3 meters) of counter space. The business jet has a 7,500-nm (13,890-km) flight range, a maximum speed of Mach 0.925, a high-speed cruise speed of Mach 0.90, and a long-range cruise speed of Mach 0.85. The jet's cabin altitude of 2,916 feet (889 meters) when flying at 41,000 ft (12,497 m) is the industry's lowest, the company says.
Find Gulfstream Aircraft
Controller.com is where you'll find a big selection of new and used Gulfstream business jets for sale, including G500, G600, and G650ER aircraft and many others.
Source: Gulfstream
Posted On: 5/30/2023 2:57:03 PM