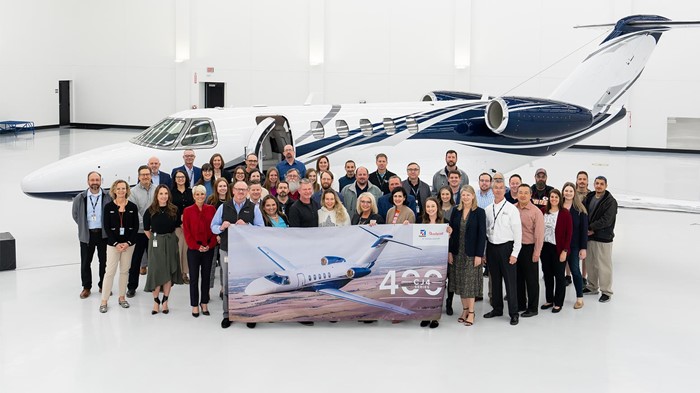 ---
Textron Aviation delivered the 400th aircraft from its Cessna Citation CJ4 series this week, handing over a CJ4 Gen2 to representatives from Koch Holdings of Easton, Pennsylvania, in a ceremony at Textron's headquarters in Wichita, Kansas. Textron says the Citation CJ4, introduced in 2010, is the world's premier single-pilot business aircraft and the largest Citation in the light jet segment. The manufacturer calls the jet an ideal option for owner-operators and corporate flight departments, thanks to its combination of superior speed, range, and operating economics compared to larger aircraft.
"Our customers appreciate the quality and reliability, as well as the comfort and flexibility, provided by the Cessna Citation CJ4 Gen2," says Lannie O'Bannion, Textron Aviation senior vice president of global sales and flight operations. "This aircraft is a direct response to continued conversations with our customers. Their input, combined with the excellent work by our employees, helped create an incredible aircraft. Thank you to everyone who made this milestone possible."
The CJ4 Gen2 Up Close
In addition to executive and personal travel, the CJ4 Gen2 is well-suited for special-mission applications like air ambulance, maritime patrol, search and rescue, and aerial survey. The plane can seat up to 10 passengers and is available in Standard, Standard Premier Collection, Optional Couch, and Optional Couch Premier Collection interior configurations. A few of the jet's amenities include CoolView skylights, upgraded seating, and a wireless cabin management system that provides control of lighting, window shades, and cabin temperature. A Fresh Air System keeps cabin air clean by pulling in fresh air from outside through the engines, which then compress and heat it to kill pathogens and germs.
---
The CJ4 Gen2 is powered by Williams International FJ44-4A engines. It has a maximum flight range of 2,165 nautical miles (4,010 kilometers), a maximum cruise speed of 451 KTAS (835 km/h), and a maximum operating altitude of 45,000 feet (13,716 meters). The aircraft's useful load is 6,950 pounds (3,152 kilograms) and its baggage capacity is 1,040 lbs. (471 kg). The included Collins Aerospace Pro Line 21 avionics suite provides dual primary and dual multifunction displays and an enhanced Collins RTA-4112 MultiScan weather radar system.
Find Cessna Aircraft
Controller.com offers hundreds of new and used Cessna aircraft for sale, including a selection of Citation CJ4 jets.
Source: Textron Aviation
Posted On: 4/28/2023 8:17:56 AM