---
The single-engine Kodiak 900 turboprop from Daher has received airworthiness certification from the European Aviation Safety Agency. A larger and faster version of the Kodiak 100, the Kodiak 900 was introduced and received certification from the Federal Aviation Administration last summer. This fall, a European operator is to receive the first European Kodiak 900 delivery. Nicolas Chabbert, senior vice president of Daher's aircraft division, says the company has seen significant European interest in the aircraft for a variety of uses including medevac, firefighting, skydiving, intelligence, and more.
"With its higher cruise speed, excellent operating efficiency, enhanced climb performance, and larger cabin, our Kodiak 900 meets the requirements of many customers who seek a faster aircraft and increased cargo capacity," says Chabbert.
Improvements All Around
The Kodiak 900 has the same backcountry short takeoff and landing (STOL) and multirole capabilities of the Kodiak 100 but boasts a nearly 4-foot (1.2-meter) longer fuselage, a faster maximum cruise speed of 210 KTAS, a longer range of 1,129 nautical miles (2,090 kilometers), and a larger useful load of 3,630 pounds (1,646.5 kilograms). It also incorporates several enhancements that help reduce aerodynamic drag and lead to a 5% reduction in specific fuel consumption compared to the Kodiak 100, Daher says. These include redesigned, remodeled, and re-engineered ducts, inlets, and air intakes.
Customers can also expect a large cargo pod with four standard access doors that were an optional feature on the Kodiak 100. The Kodiak 900's redesigned rear main cargo door, additional steps, and added handhold also make payload handling easier. The plane, which can seat up to 10 passengers, also has a brighter interior due to two additional passenger windows. The Summit+ interior also offers plenty of comfort through features like leather seats and individual oxygen, LED lighting, a dual-zone touchscreen environmental control system, cup holders, device holders and charging ports, and more. Daher says industry-leading sound damping also creates one of the quietest cabin experiences in the Kodiak 900's class.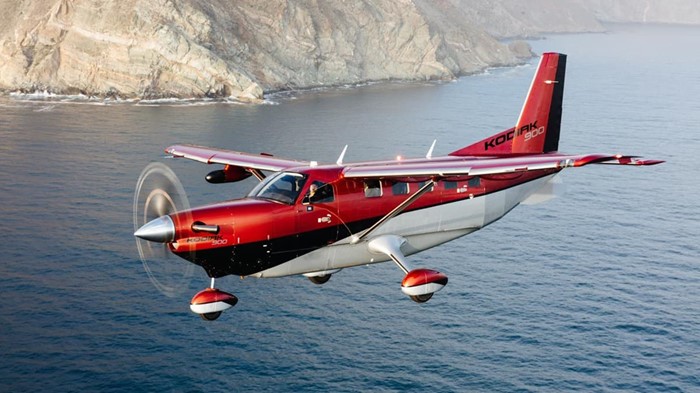 ---


Highly Capable
The Kodiak 900 offers choices of double-club, passenger with luggage, club with forward seating, cargo, special-operation, and special-mission configurations. Pilots can land the plane on grass and paved airstrips, as well as access narrow airstrips thanks to a short, 45-ft (13.7-m) wingspan. The plane's Garmin G1000 NXI avionics suite provides GFC 700 autopilot, dual Garmin GMA 1360 audio panels, Garmin Synthetic Vision, a Class-B terrain awareness system, and more.
A Pratt & Whitney Canada 900-shaft horsepower PT6A-140A turboprop engine powers the Kodiak 900's new Hartzell constant-speed, full-feathering, hydraulically actuated five-blade composite propeller, which has a low 1,900-rpm setting and a design that results in 79.5-dB(A) noise level. Daher says the low noise level allows for flying the Kodiak 900 in the most strictly regulated noise-sensitive areas.
Find Your Next Daher Aircraft
You'll find a big selection of new and used Daher aircraft for sale on Controller.com, including Kodiak turboprops.
Source: Daher
Posted On: 4/26/2023 11:52:33 AM