---
The Naval Air Systems Command (NAVAIR) has awarded Textron Aviation a Multi-Engine Training System (METS) contract to supply up to 64 twin-engine Beechcraft King Air 260 turboprop aircraft. The planes, which will operate with the T-54A training aircraft designation, will replace the Chief of Naval Air Training (CNATRA) fleet of T-44C Pegasus aircraft, which are King Air 90s that have been in service since 1977.
"We are honored the U.S. Navy has again selected the Beechcraft King Air to fulfill its training needs," says Bob Gibbs, Textron Aviation vice president of special missions sales. "METS will modernize multi-engine aircraft training at CNATRA, providing an intermediate and advanced training platform for U.S. Navy, U.S. Marine Corps, and U.S. Coast Guard aviators into the P-8, EP-3, KC-130, E-6, E-2, CMV-22, CV-22, and MV-22 aircraft."
Contract Details
Initially, the U.S. Navy will procure 10 new King Air 260s and associated support. It also has two options for 27 aircraft each. Deliveries of fully compliant METS-mission aircraft are to run from 2024 through 2026. Textron says METS-specific capabilities include factory options for such features as tactical air navigation system (TACAN; air to air), angle of attack (AOA), engine trend monitoring, an observer/jump seat, passenger mission seats, and full-face oxygen masks.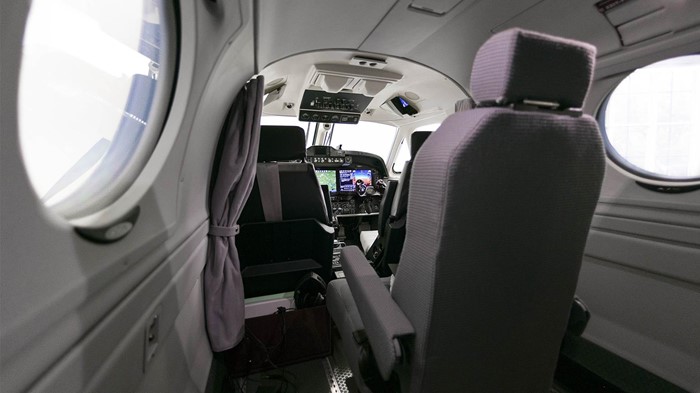 ---
"With its advanced technology, the new METS platform will be more representative of fleet aircraft," says Capt. Holly Shoger, Naval Undergraduate Flight Training Systems Program Office (PMA-273) program manager. "The T-54A will include an updated avionics suite, automation qualities, and virtual reality and augmented reality devices to better prepare students for the advanced aircraft they will fly in the fleet."
The King Air 260
The King Air 260 is one of several aircraft that Textron makes available to government, military, and commercial customers configured to serve special-mission operations, including aerial survey, air ambulance, flight inspection, training, utility and transport, and more. Textron says the King Air series is the world's bestselling turboprop family. Since 1964, 7,700 King Airs have been delivered worldwide. The current King Air lineup also includes the King Air 360 and King Air 360ER.
The King Air 260 can seat up to nine passengers. It's powered by Pratt & Whitney Canada PT6A-52 engines and has a 1,720-nautical-mile (3,185-kilometer) flight range, a maximum cruise speed of 310 KTAS (574 km/h), a useful load of 3,760 pounds (1,705.5 kilograms), and a maximum operating altitude of 35,000 feet (10,668 meters). The turboprop's Collins Aerospace Pro Line Fusion flight deck is equipped with a digital pressurization controller that automatically schedules cabin pressurization during climbs and descents. Pilots also have an Innovative Solutions & Support Thrustsense Autothrottle system that reduces their workload through all phases of flight.
---


Find Beechcraft Turboprops
Controller.com offers hundreds of new and used Beechcraft planes for sale, including King Air 260, 90, and 360 turboprops.
Source: Textron Aviation
Posted On: 2/27/2023 4:44:46 PM