---
The Cessna SkyCourier is now available with a gravel kit that enables the twin-engine, large-utility turboprop aircraft take off and land on unimproved runways. Cessna parent company Textron Aviation says initial deliveries with the option installed will begin this month and will create new usage scenarios for SkyCourier customers, which include government and law enforcement agencies, military organizations, air ambulance operators, freight haulers, corporations, and humanitarian organizations.
"Cessna aircraft have been moving people and critically needed goods in and out of remote areas for decades, and this new capability allows SkyCourier customers to operate in some of the world's most demanding environments," says Lannie O'Bannion, Textron Aviation senior vice president of sales and flight operations. "The addition of this new gravel kit greatly enhances the already rugged reliability of the SkyCourier."
Hauling Freight & Passengers
Boasting a clean-sheet design, the SkyCourier received Federal Aviation Administration type certification in March 2022. Launch customer FedEx received the first deliveries two months later. Available in freighter and 19-passenger variants, the aircraft is well-suited for air freight, passenger, and special-missions applications. FedEx's initial fleet order was for 50 cargo aircraft with options for 50 more.
The freighter version has a maximum flight range of 940 nautical miles (1,741 kilometers) and a 2,740-foot (835-meter) takeoff distance. It has 884 cubic ft (25cu m) of cargo volume, a 6,000-pound (2,720-kilogram) maximum payload, and can haul three LD3 containers. Its rear cargo door measures 7.3 by 5.75 ft (2.2 by 1.75 m) and it's available with an optional a cargo floor roller system, cargo nets, multiple attach points, and seat rail attach points. In its passenger configuration, the SkyCourier has a 920-nm (1,704-km) maximum range, a 3,660-ft (1,115-m) takeoff field length, a 5,000-lb (2,268-kg) maximum payload, and 186 cu ft (5.27 cu m) of baggage volume.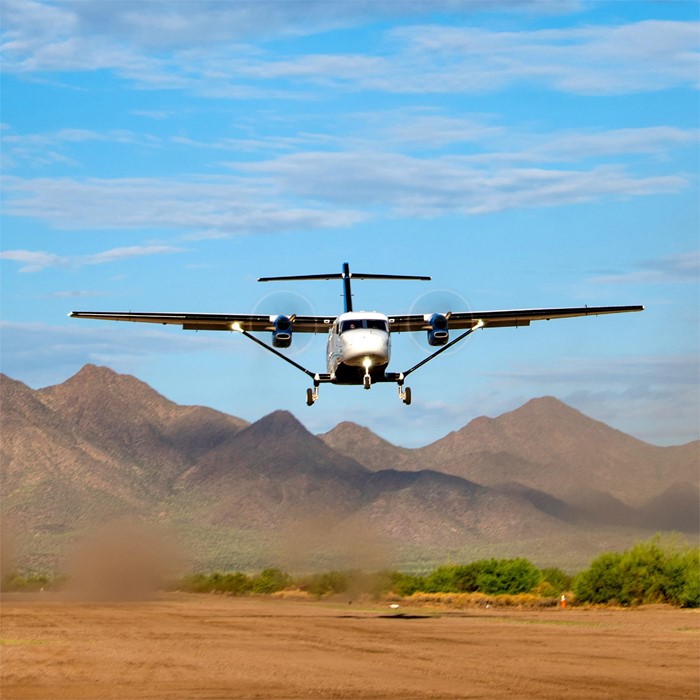 ---


The SkyCourier
Both SkyCourier variants have a maximum cruise speed of 210 KTAS. Each is powered by two wing-mounted Pratt & Whitney PT6A-65SC turboprop engines with aluminum four-blade McCauley C779 propellers. Garmin G1000 NXi avionics with enhanced graphics, split-screen capabilities, and other components are included with each configuration.
Find Cessna Aircraft
Controller.com offers hundreds of new and used Cessna aircraft for sale, including a big selection of Cessna turboprop aircraft.
Source: Textron Aviation
Posted On: 2/9/2023 10:16:24 AM