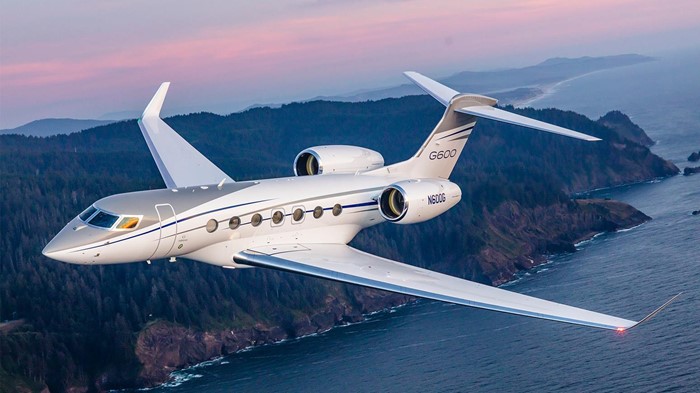 ---
Gulfstream Aerospace completed the 100th delivery of its award-winning G600 executive jet in mid-February. Outfitted at the manufacturer's completions center in Dallas, the aircraft went to a North American customer. The company introduced the 19-passenger business jet in 2014 alongside the G500, which also seats up to 19. G500 deliveries began in 2018, while G600 deliveries began in August 2019. The 100th G500 delivery occurred in the second half of 2022.
"The G600 continues to redefine excellence," says Gulfstream President Mark Burns. "Thanks to its highly customizable cabin, fuel-efficient design, and exceptional performance capabilities, we are seeing unwavering customer demand. The 100th G600 customer delivery is a testament to that excellence and surging popularity."
A Record-Breaking Award Winner
Gulfstream completed the 50th G600 delivery in September 2021. The first G600 to be outfitted at the company's Dallas facility occurred in April 2022. Since its introduction, the jet has established more than 35 city pair speed records. The aircraft also won a Private Jet Design honor in the 2018 International Yacht & Aviation Awards.
Customers can configure the interior with up to four living areas or with three living areas and either an aft or forward galley with crew compartment. The Gulfstream Cabin Experience comprises what the company says are "whisper-quiet" noise levels, 100% fresh air purified by a plasma ionization clean air system, and plenty of natural light made possible by 14 panoramic oval windows that Gulfstream says are the industry's largest.
The G600 In Action
The G600 is powered by two Pratt & Whitney PW815GA engines. It has a Gulfstream Symmetry Flight Deck with active control sidesticks that provide pilots with enhanced visual and tactile feedback, 10 touchscreen displays, and Phase-of-Flight technology. The airframe includes wings constructed from a single piece of aluminum; Gulfstream says they're the industry's most advanced. The jet has a 6,600-nautical-mile (12,223-kilometer) range at Mach 0.85 and a 5,600-nm (10,371-km) range at Mach 0.90. Its maximum operating speed is Mach 0.925.
Find Gulfstream Business Jets
You'll find a big selection of new and used Gulfstream aircraft for sale at Controller.com, including a number of G500 and G600 business jets.
Source: Gulfstream
Posted On: 2/27/2023 9:51:26 AM