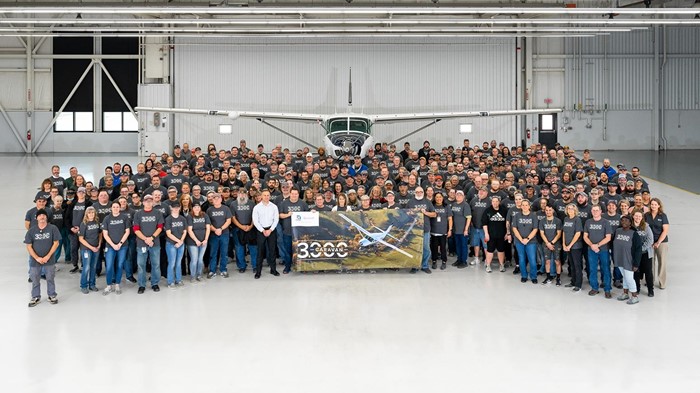 ---
Cessna parent company Textron Aviation has now delivered 3,000 aircraft from its Cessna Caravan turboprop family, the most recent being a single-engine Grand Caravan EX that went to Brazilian aviation company Azul Conecta. Based at Jundiai Airport near São Paulo, Azul Conecta was launched in 2008 and claims to serve more cities in Brazil than any other airline. To celebrate the delivery, employees and representatives from both companies attended a special ceremony at Textron's facility in Independence, Kansas.
"The Cessna Caravan's versatility and reliability have made it the most popular aircraft in the utility turboprop category, with now 3,000 delivered globally," says Lannie O'Bannion, Textron Aviation senior vice president of sales and flight operations. "I'm thankful to customers like Azul Conecta who continuously rely on the Caravan family of aircraft to fulfill their missions, deliver solutions, and improve lives around the world."
A Short History Of The Caravan
The Caravan program launched in 1981. Three years later, the Caravan 208 received Type Certification from the Federal Aviation Administration. Caravan 208 deliveries began in 1985, and the 1,000th Caravan delivery was completed in 1998. Deliveries of the Grand Caravan EX 208B began in 2013. Current models include the Caravan 208, the Grand Caravan EX 208B, the Caravan Amphibian, and the Grand Caravan EX Amphibian. Textron counts government agencies, law enforcement and military, air ambulance operators, freight haulers, and corporations around the world among its Caravan customers.
---
"This Grand Caravan EX will proudly fly the Brazilian skies and connect our 158 destinations, many of which are made possible by the aircraft's utility and flexibility," says Flavio Costa, CTO of Azul and president of Azul Conecta. "As a longtime Textron Aviation customer with a fleet of over 25 Cessna aircraft, we are happy to be a part of this important milestone."
About The Grand Caravan EX
Grand Caravan EX users include regional airlines, charter operators, and cargo carriers. The aircraft, which can seat up to 14 passengers, is powered by a Pratt & Whitney Canada PT6A-140 power plant rated for 867 horsepower. The turboprop has a maximum range of 912 nautical miles (1,689 kilometers), a maximum cruise speed of 185 ktas (343 km/h), and a maximum operating altitude of 25,000 feet (7,620 meters). Cessna equips the plane with a Garmin G1000 NXi avionics suite and offers customers a choice of Canyon, Savanna, or Oasis interior packages.
Find Cessna Aircraft
Controller.com is an excellent source for new and used Cessna aircraft for sale, including Grand Caravan EX turboprops.
Source: Textron Aviation
Posted On: 1/16/2023 12:33:27 PM