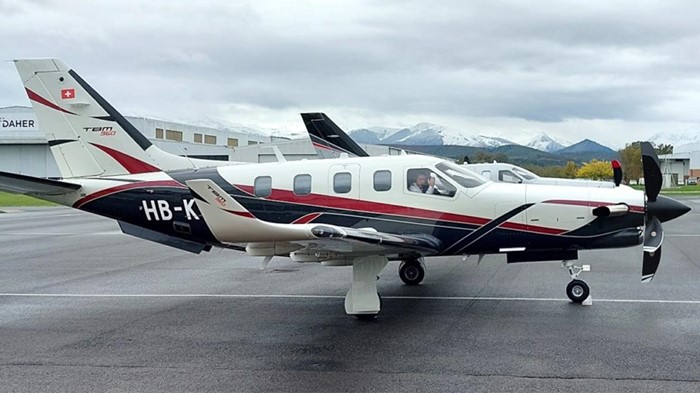 ---
Turboprop aircraft manufacturer Daher recently delivered its first TBM 960 to a buyer in Switzerland. The plane went to Paolo Buzzi, a founding partner of online bank Swissquote and a Swissquote Group Holding Ltd board member. Daher says there are now 12 aircraft from the TBM series based in Switzerland. Buzzi, an experienced pilot with 2,200 flight hours under his belt, previously owned a TBM 930 that he logged 1,200 hours in, including 108 during an around-the-world trip made in 2018 covering 25,824 nautical miles (47,826 kilometers). After he completes training in the TBM 960, Buzzi plans to take a long-range trip to New Zealand.
"We thank Paolo Buzzi for his loyalty to the TBM, and we wish him all the best for the long-duration trips that he is planning with his brand-new TBM 960," says Daher Aircraft Division Senior Vice President Nicolas Chabbert. "His choice underscores how the TBM is perfectly tailored to the general-aviation market in Switzerland, offering fast and direct transportation to most European capitals, and enabling operations from smaller airports."
Safe Landing
Daher says Buzzi based his TBM 960 purchase partially on the plane's inclusion of the HomeSafe emergency auto-land system. Integrated into the plane's Garmin G3000 touchscreen-controlled flight deck, the system can automatically land the plane on a runway it chooses should the pilot become incapacitated. The TBM 960, which seats up to six passengers, also offers plenty of comfort. The Prestige cabin boasts soundproofing, ergonomic leather seats, and individual electronically controlled window shades. The plane's environmental control system allows for touchscreen control of passenger zone temperature and adjustment of heat to individual seats.
The TBM 960
The TBM 960 is powered by a Pratt & Whitney Canada PT6E-66XT power plant and is equipped with a five-blade Hartzell Raptor propeller. A digital Engine and Propeller Electronic Control System (EPECS) gives the pilot precise control for maximum efficiency, Daher says. The company says using its recommended settings can lower fuel consumption to 57 gallons (215.8 liters) per hour at a cruise speed of 308 ktas. The TBM 960 has a maximum cruise speed of 330 ktas and a maximum flight range of 1,730 nm (3,204 km).
Find Your Next Daher Aircraft
You'll find a number of new and used Daher aircraft for sale on Controller.com, including TBM 960 turboprops.
Source: Daher
Posted On: 1/12/2023 11:41:07 AM