---
The upcoming, large-cabin Dassault Aviation Falcon 10X business jet has won a 2022 Good Design Award from the Chicago Athenaeum Museum of Architecture and Design and European Centre for Architecture Art Design and Urban Studies. The jet previously won a 2022 Red Dot Award for design and was on the shortlist for an International Yacht & Aviation Awards honor in the private jet interior category. Dassault Aviation says the aircraft's cabin provides exemplary sensory design, interior lighting, sound dampening, and other advanced design techniques that assist in making passengers feel as if they're in a "penthouse in the sky."
"These and other awards received by our rapidly expanding fleet are eloquent testimony to the unparalleled design and engineering prowess possessed by our company," says Eric Trappier, Dassault Aviation chairman and CEO. "No other business jet OEM is capable of blending leading-edge aircraft technologies, particularly in the realm of flight aerodynamics and digital flight control, with the most innovative and creative features of interior design."
---


A Five-Star Experience
Introduced in 2020, the Falcon 10X is expected to enter service in 2025. Dassault says parts production is underway and industrial teams are readying themselves to start final assembly of the first aircraft. When the aircraft enters the market, it will boast both the industry's biggest and most comfortable cabin, Dassault says. The cabin measures 6.7 feet (2.04 meters) high by 9.1 ft (2.77 m) wide by 53.8 ft (16.4 m) long and has a volume of 2,780 cubic ft (78.7 cu m).
The Chicago Athenaeum Museum of Architecture and Design says the aircraft's lounges are "designed like apartments or hotel rooms with dedicated functions" and the "rooms resemble five-star kitchens, theaters, hotel suites, and spas." Additionally, the award jury notes that the minimal designs of the seats, tables, and vanity create abundant free space, while the furniture moves in a way that insulates passengers from each other. It worth noting that instead of providing four equally sized cabin zones, customers can configure the cabin zones with different lengths to create a completely customized interior.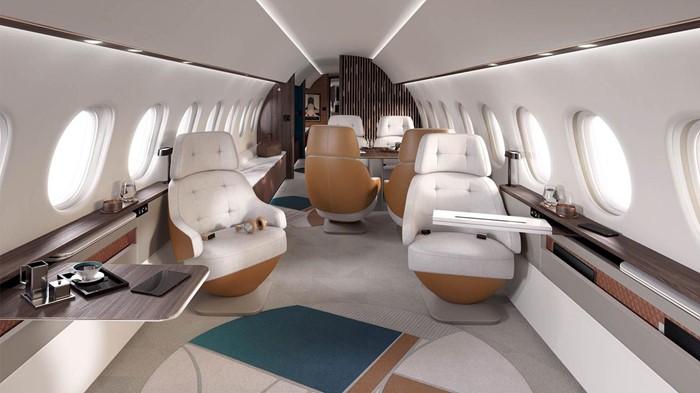 ---


The Falcon 10X
The ultra-long-range 10X has a maximum flight range of 7,500 nautical miles (13,900 kilometers) at Mach 0.85 with eight passengers and four crew members. That's sufficient to connect such international business destinations as New York City to Shanghai, Hong Kong to New York City, Los Angeles to Sydney, and Paris to Santiago. The jet has a top speed of Mach 0.925, a maximum certified altitude of 51,000 ft (15,454 m), a landing distance of 2,500 ft (762 m), and a maximum takeoff weight of 115,000 pounds (52,163 kilograms). It's powered by dual Rolls-Royce Pearl 10X engines, each rated for 18,000-plus lbs of thrust.
Find The Right Dassault Aircraft
Controller.com offers numerous new and pre-owned Dassault Aviation business jets for sale, including Falcon 7X and Falcon 8X aircraft, among others.
Source: Dassault Aviation
Posted On: 1/27/2023 4:02:32 PM