---
Dassault Aviation is exhibiting its large-cabin Falcon 8X business jet at the Middle East & North Africa Business Aviation Association (MEBAA) trade show occurring through Thursday in Dubai at the Al Maktoum International Airport, or Dubai World Central (DWC). Dassault says of 75 Falcons operating in the region, one-third are large-cabin models like the 16-passenger 8X trijet. The manufacturer has already taken numerous orders in the Middle East for the 6X, which is set to enter service by mid-2023. Falcon 10X deliveries are anticipated for late-2025.
Flight Of The Falcons
The Falcon 8X can access short runways and can fly nonstop from New York City to Dubai. Dassault says its cabin, which measures 42.7 feet (13 meters) long by 6.2 ft (1.88 m) high by 7.7 ft (2.34 m) wide, is the quietest in the business jet segment. Equipped with three Pratt & Whitney Canada PW307D engines, the jet has a 6,450-nautical-mile (11,945-kilometer) flight range and a maximum speed of Mach 0.90. Its proprietary Digital Flight Control System (DFCS) that's included is derived from Rafale fighter jet systems and makes flights safer while enhancing passenger comfort, Dassault says.
The all-new 16-passenger 6X will provide business aviation's tallest and widest cabin, Dassault says. The cabin is 40.4 ft (12.3 m) long by 6.5 ft (1.98 m) high by 8.5 ft (2.59 m) wide. The twinjet will be Dassault's first Falcon to include the FalconScan advanced diagnostics system, which can monitor and report on 100,000 maintenance parameters. The 6X will have a 5,500-nm (10,186-km) flight range and maximum speed of Mach 0.90. The ultra-long-range 10X will have a 7,500-nm (13,890-km) flight range. The twinjet will boast the market's biggest and most comfortable cabin and be the top its class in terms of modularity, Dassault says. The cabin will measure 6.8 ft (2.07 m) high by 9.1 ft (2.8 m) wide by 53.10 ft (16.2 m) long.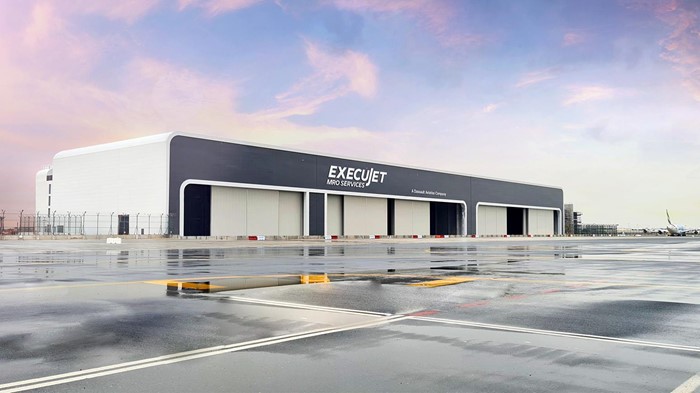 ---


Support Changes
Dassault also announced that its ExecuJet MRO Services unit will open a 163,000-square-ft (15,000-sq-m) maintenance, repair, and overhaul facility early next year at DWC for business jet operators in the Gulf Region. The facility will simultaneously accommodate 18 to 24 aircraft. Services will range from line maintenance to major overhauls. The complex replaces an existing service center at Dubai International Airport (DXB) as ExecuJet's regional headquarters, but the existing service center at DXB will continue providing aircraft-on-ground services.
Find Dassault Aircraft
You'll find new and used Dassault business jets for sale at Controller.com, including Falcon 7X, 8X, 50, and 900 models.
Source: Dassault Aviation
Posted On: 12/5/2022 3:07:04 PM