---
Honda Aircraft Company introduced its new HondaJet Elite II very light jet at this week's 2022 National Business Aviation Association-Business Aviation Convention & Exhibition (NBAA-BACE) trade show. The manufacturer says the Elite II offers improved performance, a redesigned cabin, and new automation capabilities. The jet's flight range has been extended to 1,547 nautical miles (2,865 kilometers) with four passengers, compared to the Elite's 1,437 nm (2,661 km), allowing Honda customers to reach more destinations in what it refers to as the segment's most fuel-efficient aircraft. Deliveries are expected to begin this year.
"The HondaJet Elite II once again pushes the boundaries of its category on all fronts of performance, comfort, and style," says Hideto Yamasaki, Honda Aircraft Company president and CEO. "We are also excited to take our aircraft forward on the journey of automation by bringing new technologies to the market next year."
Autothrottle & Autoland
The aforementioned automation technologies include an Autothrottle option available in the first half of 2023. Built into a "highly customized" avionics suite that's based on a Garmin G3000 flight deck, Autothrottle reduces the pilot's workload by taking over power management according to desired flight characteristics through all phases of flight. This enhances performance precision and efficiency, Honda says. In the second half of the year, Honda will make available Emergency Autoland, Garmin technology for autonomously controlling and landing an aircraft without human intervention in emergency situations.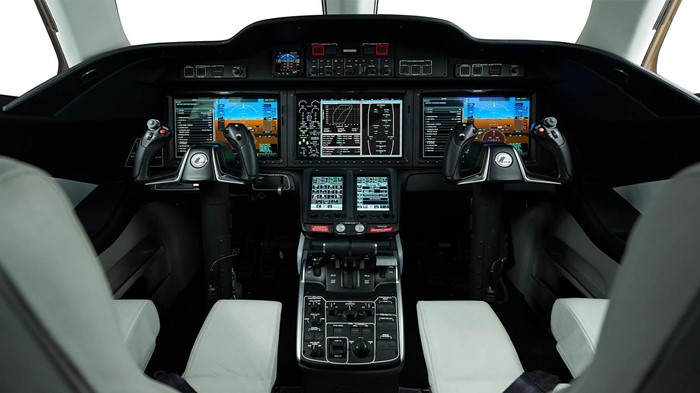 ---
Also on tap are automated anti-ice, lighting, and pressurization systems and an Advanced Steering and Augmentation System (ASAS). Additionally, the jet includes automated ground spoilers that automatically deploy upon landing or rejected take-off to enhance take-off and landing performance. Stabilized approach technology, meanwhile, alerts pilots when the jet is in an unstable approach.
A New Look
The Elite II's fully redesigned cabin includes Onyx and Steel interior design options that boast new surface materials and colors. The jet also has a lavatory with ceiling skylights, an option for new aisle flooring, LED lighting with a soft-indigo nighttime setting, main entry door ground illumination, and a nose-to-tail acoustic treatment that creates a "tranquil cabin experience." The twinjet also introduces a new Black Edition exterior paint scheme with a handsome dark-black base and red accent stripes.
Structural design items of note include Honda's Over-The-Wing Engine Mount (OTWEM) configuration, natural laminar flow nose and wing design, and a composite fuselage. Honda says that combined with the jet's GE Honda Aero HF120 engines, these innovations result in superior performance, unmatched efficiency, and maximized fuselage space, all making possible the segment's largest cabin.
---


Specifications
The Elite II has an increased maximum takeoff weight of 11,100 pounds (5,035 kilograms), a maximum cruise speed of 422 ktas (782 km/h), and a maximum cruise altitude of 43,000 feet (13,106 meters). The interior is 14.9 ft high by 39.76 ft wide by 42.62 ft long (4.54 by 12.12 by 12.99 m) and has 62 cubic ft (1.75 cu m) of combined available baggage space. Typical configurations include one crew and six passengers or two crew and five passengers. Alternative configurations include one crew and seven passengers or two crew and six passengers.
Find Honda Aircraft
Controller.com offers a number of new and used Honda aircraft for sale, including Elite very light jets.
Source: Honda Aircraft
Posted On: 10/21/2022 8:23:07 AM