---
Bombardier has introduced a new Executive cabin configuration with three suites that's exclusively available for its Global 7500 and upcoming flagship Global 8000 business jets. The offering is the first open-office cabin concept designed for corporate productivity, Bombardier says. The cabin includes Office Suite, Conference Suite, and C-Suite workspaces, each 12 feet (3.65 meters) long, and features a new, movable Nuage Cube furniture piece that can function as a seat, footstool, or small table. Bombardier is showcasing the cabin in the form of a vignette at the National Business Aviation Association-Business Aviation Convention & Exhibition (NBAA-BACE) 2022 trade show that opened today and runs through Thursday in Orlando.
"With the introduction of the new Executive cabin, Bombardier once again is showcasing that our team is second to none when it comes to continuously improving cabin design on its world-renowned and record-setting aircraft, further solidifying its position as the leader in business aviation today," says Bombardier President and CEO Éric Martel. "The new Executive cabin provides Global 7500 and Global 8000 customers with the productivity configuration they need to transform their aircraft into the ultimate business tool—the most impressive corporate purpose-built business jets in the skies today."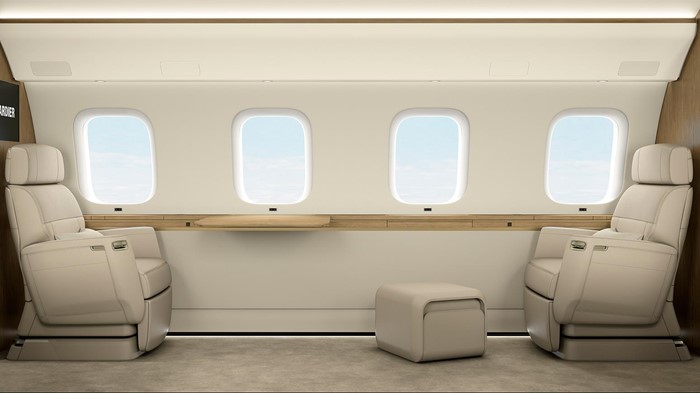 ---


Work In Comfort
The Global 7500 and Global 8000 can seat up to 19 passengers, and both are also available in a configuration that provides four true living spaces. The Executive cabin offering includes eight ultra-large, equally spaced windows in each working space, providing what Bombardier says is the most window area per workspace of any purpose-built business jet. The configuration also provides the fastest internet connectivity, Bombardier says.
The cabin's Office Suite provides class-leading leg room, and includes four Nuage seats, each with its own side table. The Conference suite has a conference table that's opposite an ultra-large credenza with a built-in, flip-up monitor for videoconferencing and presentations. The C-Suite, located in the aft cabin, includes a pocket door to create a private setting for confidential conversations or just relaxing. The Nuage Cube that's useable in all the spaces can be tilted on any side and secured to a credenza housing unit.
---


The Global 7500 & 8000
Introduced in 2018, the Global 7500 has a 7,700-nautical-mile (14,260-kilometer) range and a top speed of Mach 0.925. It features an all-new GE Passport engine, a Smooth Flĕx Wing, the Bombardier Vision flight deck, and an all-new nice Touch cabin management system. The Global 8000 is set to enter service in 2025 as business aviation's fastest (Mach 0.94) and longest-range (8,000 nm; 14,816 km) model. The jet also tops its class with a cabin altitude of 2,900 ft (884 m) flying at 41,000 ft (12,497 m), and provides short-field performance in all weather conditions.
Find Bombardier Aircraft
Controller.com offers a large selection of new and used Bombardier aircraft for sale, including jets like the Global 7500.
Source: Bombardier
Posted On: 10/18/2022 2:19:25 PM