---
Gulfstream Aerospace recently flew a second fully outfitted G700 production-test aircraft, one it added to its G700 flight test program in May 2022. Gulfstream will use it to ensure the maturity, durability, and comfort of cabin elements introduced at the launch of the 19-passenger G700 in October 2019. Gulfstream flew the first G700 production-test aircraft in April 2021. That aircraft has already established eight international city-pair speed records, won a 2020 International Yacht & Aviation Award for its Classic Seat, and garnered a 2022 IY&AA honor in the Private Jet Design category. Gulfstream claims the G700, which is set to enter service this year, is the business aviation industry's most spacious, innovative, and flexible aircraft.
Put To The Test
Cabin elements in the second production-test aircraft include an optional all-new, ultra-high-definition dynamic circadian lighting system that replicates sunlight by mixing warm white, cool white, and amber LED lights. The system's brightness levels range from 0.01 to 100%, thus simulating sunrise-to-sunset environments. Travelers can individually program lighting for each of the cabin's up to five living areas. The test aircraft also contains a grand suite and a newly designed lavatory with natural light, a full vanity, and a shower. A six-place dining area with a fully expandable, self-contained table is also included.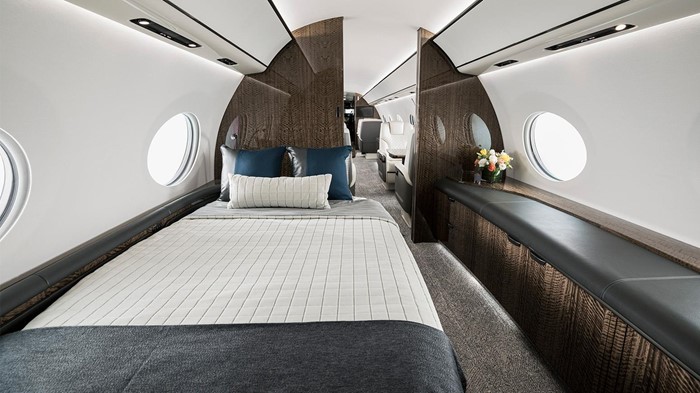 ---
Sans baggage area, the cabin is 6.3 feet high by 8.2 ft wide by 56.92 ft long (1.9 by 2.5 by 17.3 meters). The space allows for what Gulfstream claims is the industry's longest galley, which includes 10 ft (3 m) of counter space. The aircraft's 20 panoramic oval windows are also the industry's largest, while the jet's cabin altitude of 2,916 ft (890 m) at 41,000 ft (12,500 m) is business aviation's lowest, Gulfstream says. Other features of note include the Gulfstream Cabin Experience, which incorporates 100% fresh air, a plasma ionization clean-air system, and Jet ConneX Ka-band Wi-Fi connectivity.
The G700
Along with two all-new Rolls-Royce Pearl 700 engines rated for 18,250 pounds-force (81.2 kilonewtons) of takeoff thrust apiece, the G700 is equipped with a Gulfstream Symmetry Flight deck with active-control sidesticks, touchscreen avionics, and Phase-of-Flight technology. The jet has a flight range of 7,500 nautical miles (13,890 kilometers), a maximum speed of Mach 0.925, a high-speed cruise speed of Mach 0.90, and a long-range cruise speed of Mach 0.85.
---


Find Gulfstream Aircraft
Controller.com is where you'll find new and used Gulfstream business jets for sale, including G450, G550, G650, and G650ER aircraft and more.
Source: Gulfstream
Posted On: 9/12/2022 11:15:59 AM