---
Diamond Aircraft recently delivered a twin-engine DA42-VI and a single-engine DA40 NG to Akagera Aviation Flying Academy, located at Kigali International Airport in Kigali, Rwanda. The airplanes are the academy's first from Diamond Aircraft, and have arrived just prior to Diamond and Akagera Aviation appearing together at the Aviation Africa 2022 trade show taking place September 12 and 13 in Kigali at booths 9 and 10.
"This delivery is just the beginning of many more aircraft and flight simulators to follow, and we strongly believe Diamond Aircraft will help us achieve our goal of becoming a center of excellence in the region," says Akagera Aviation Managing Director Patrick Nkulikiyimfura.
Three Is The Magic Number
Diamond says three primary reasons led the flight academy to choose its aircraft, starting with the potential to realize fuel and operating savings while producing a lower environmental impact. This is possible because both planes use jet fuel rather than avgas, which is costlier and more difficult to obtain in Rwanda. Secondly, the flight academy determined that Diamond's aircraft represent its best option for training next-generation pilots. Finally, Diamond says as the only sole source supplier of single- and multiple-engine trainer aircraft, flight simulators, and proprietary engines, it provides Akagera Aviation several advantages, including reduced instructor standardization, quick student transition, streamlined maintenance procedures, and a smaller necessary parts inventory.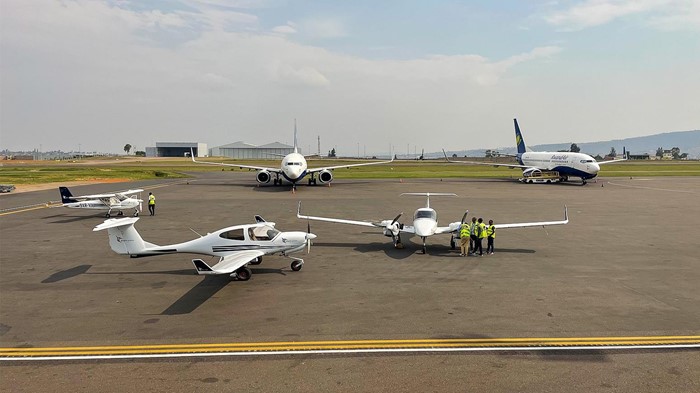 ---


The DA40 NG Tundra & DA42-VI
Both Diamond aircraft are the first certified general-aviation piston aircraft to combine modern composite airframes, avionics, and power plants, Diamond says. Each can seat four passengers, includes a Garmin G1000 NXi flight deck, and is equipped with three-blade MT hydraulic constant-speed propellers. The DA40 NG Tundra is powered by a 168-horsepower (124-kilowatt) Austro Engine AE 300 turbocharged engine with EECU (electronic engine control unit) single-lever control system. The plane features reinforced landing gear attachments, standard Beringer wheels, and a special long-stroke hydraulic damper to control its extra-heavy-duty extended nose strut. The DA42-VI includes two 168-HP AE 300 engines.
Find Your Next Diamond Aircraft
Controller.com offers a big selection of new and used Diamond planes for sale, including a number of DA42 models like the DA42-VI and DA40 models like the DA40 NG.
Source: Diamond Aircraft
Posted On: 9/9/2022 3:49:25 PM