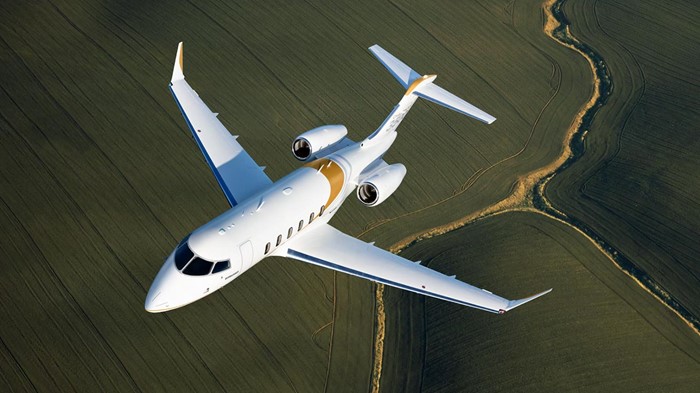 ---
On September 23rd, Bombardier entered its award-winning, super-midsized Challenger 3500 business jet into service. The aircraft's launch customer, Les Goldberg, chairman and CEO of Entertainment Technology Partners, will take ownership later this year. Bombardier will first have the jet on static display at the National Business Aviation Association-Business Aviation Convention & Exhibition (NBAA-BACE) taking place from October 18 to 20 in Orlando.
"As a previous owner of a Challenger 350 business jet, I can say with confidence that Bombardier has hit all the right notes in creating a next-generation aircraft," Goldberg says. "The cabin interior is spectacular, and I appreciate the added comfort and productivity that these new features will bring to our worldwide travels."
An Award-Winning Beginning
Introduced a year ago as an evolution of the Challenger 350, the 10-passenger Challenger 3500 earned a 2022 Red Dot Award: Product Design "Best of the Best" distinction in April 2022. In mid-September, it was named the Grand Winner in the Industrial Design/Automotive & Transportation category at the 15th edition of the Grands Prix du Design, an international award recognizing excellence in design. Along with the industry's first voice-controlled cabin for managing lighting, temperature, and entertainment systems, the aircraft is the first to make wireless chargers available throughout the cabin and the segment's only aircraft with a 24-inch, 4K display, Bombardier says.
---
At 6 feet high by 7.2 ft wide by 25.2 ft long (1.8 by 2.2 by 7.7 meters), the cabin is the widest in its class, and the quietest due to an advanced sound-isolating design, Bombardier says. Also awaiting passengers are Bombardier's patented Nuage seat, which features "zero-gravity positioning," and a reduced cabin altitude of 4,850 ft (1,478 m) at 41,000 ft (12,500 m). The cabin also includes what the company says is the segment's fastest fresh air delivery system, replenishing the cabin with fresh air in under two minutes.
Sustainability In Mind
Bombardier claims the Challenger 3500 is the most sustainably designed business jet in its class, and the first with an Environmental Product Declaration (EPD), which documents the aircraft's environmental footprint over its lifecycle. Customers can choose from such high-end environmentally friendly cabin options as up-cycled fabrics, alternative wood types, and natural fiber-based materials. In another first for the business aviation industry, flight crews can use an eco app to optimize fuel efficiency and lower CO2 emissions.
---


The Challenger 3500 In Action
The jet has a maximum flight range of 3,400 nautical miles (6,297 kilometers), a maximum speed of Mach 0.83, and a high-speed cruise of Mach 0.82. Along with steep-approach capability, the aircraft has a 99.8% dispatch reliability, Bombardier says. Its advanced avionics suite provides four large displays, a standard auto-throttle system, a Synthetic Vision System (SVS), a MultiScan Weather Radar system, and availability for a head-up display (HUD) with Enhanced Vision System (EVS).
Find Your Next Bombardier Aircraft
You'll find a big selection of new and used Bombardier aircraft for sale on Controller.com, including Challenger 300, 604, and 850 and Global 6000 and 7500 business jets.
Source: Bombardier
Posted On: 9/23/2022 5:07:38 PM