---
Bombardier has announced the firm order for a new Challenger 3500 business jet from Italian aviation services provider Air Corporate SRL. The order will give the Italian firm the distinction of being the first company to make the 10-passenger super-midsized aircraft available for charter in Europe. Founded in 1999 to meet business aviation customers' needs, Air Corporate SRL has operations in eight Italian locations.
"The new Challenger 3500 aircraft is the perfect charter solution for Air Corporate SRL and other flight departments, offering a truly seamless corporate travel experience," says Ettore Rodaro, Bombardier regional vice president of sales in Europe. "With its impressive performance, consistent reliability, and exceptional smooth ride, the Challenger 3500 is the industry's leading super midsize business jet."
Take A Seat
The Challenger 3500 earned a 2022 Red Dot Award: Product Design "Best of the Best" honor. Bombardier says it has the widest and quietest cabin in its class, and leads the segment as the most technologically advanced, as well. The cabin boasts such amenities as wireless chargers throughout and the category's only 24-inch, 4K display. It also provides the industry's first voice-controlled cabin system for adjusting lighting, temperature, and entertainment systems, Bombardier says.
Passengers can also look forward to relaxing in Bombardier's exclusive, patented Nuage seat. Bombardier says it's the first new seat architecture in business aviation in more than 30 years, with "zero-gravity" positioning. The cabin is also equipped with a class-leading air delivery system that replenishes the cabin with fresh air in under two minutes, and has one of the lowest cabin altitudes in its class at 4,850 feet (1,478 meters). In addition, passengers can access the baggage compartment whenever needed.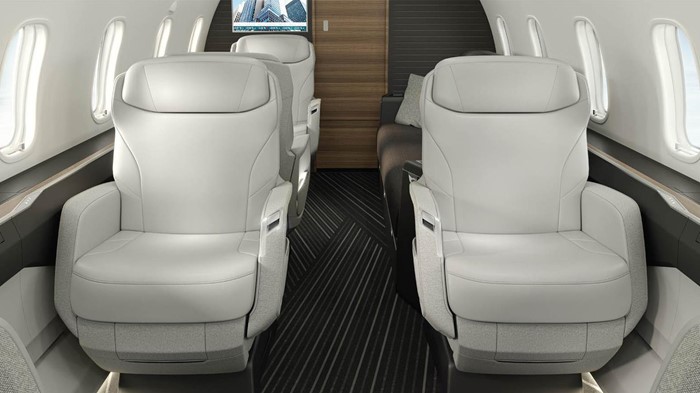 ---


The Challenger 3500
The Challenger 3500 was introduced last year as an evolution of the Challenger 350; Bombardier expects deliveries to begin this year. The aerospace company says the jet has a 99.8% dispatch reliability and is ready to fly in 7 minutes or less. It has a maximum flight range of 3,400 nautical miles (6,297 kilometers), a top speed of Mach 0.83, and a high-speed cruise of Mach 0.82.
Two Honeywell HTF7350 turbofans power the Challenger 3500, and its advanced avionics suite includes four large displays, a standard auto throttle system, a Synthetic Vision System (SVS), and a MultiScan Weather Radar system. A head-up display (HUD) with Enhanced Vision System (EVS) is also available.
Find Bombardier Business Jets
You'll find a big selection of new and used Bombardier jets for sale on Controller.com, including a number of Challenger 350 and Challenger 650 models.
Source: Bombardier
Posted On: 8/8/2022 3:33:58 PM