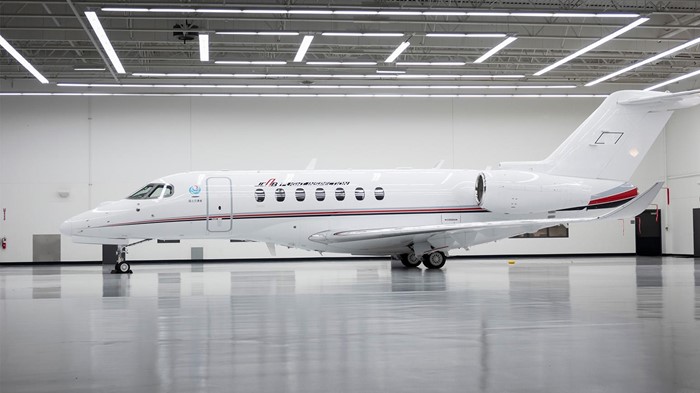 ---
Textron Aviation recently delivered a special-mission Cessna Citation Longitude equipped with flight inspection calibration equipment to the Japan Civil Aviation Bureau. The super-midsize aircraft will be used to conduct flight validation and flight inspection operations to ensure the integrity of airways throughout Japan's national airspace, Textron says. The JCAB already operates five Cessna Citation CJ4 jets for similar flight-inspection operations, the manufacturer says.
"The Longitude continues the legacy of Cessna Citation flight inspection jet aircraft in service by the JCAB," says Textron Aviation Vice President of Special Mission Sales, Bob Gibbs. "The performance, large cabin, and capabilities of the Longitude provide the JCAB a new level of efficiency and productivity in maintaining the operational integrity of its airports and airways."
A Focus On Special Missions
The JCAB's Longitude is outfitted with UNIFIS 3000-G2 flight inspection equipment that will be used to verify navigation aids. A few of these include Instrument Landing System Category I, II, and III (ILS CAT I, II, and III) approaches, as well as Ground Based Augmentation System (GBAS), Very High Frequency Omni-Directional Range (VOR), and Tactical Air Navigation system (TACAN) gear, and more.
Other aircraft that Textron Aviation makes available for special mission applications to government, military, and commercial customers include the Cessna Caravan and Grand Caravan EX and Beechcraft King Air 360, King Air 360ER, and Baron G58. Other special-mission roles can include aerial survey, air ambulance, float operations, surveillance, and utility/transport applications.
---


The Cessna Citation Longitude
Introduced in 2012, the Longitude can seat up to 12 passengers. With four passengers it has a maximum range of 3,500 nautical miles (6,482 kilometers). The jet has a maximum cruise speed of 483 ktas. The business jet's FADEC (Full Authority Digital Engine Control)- equipped Honeywell HTF7700L engines each provide a maximum of 7,665 pounds force (34.10 kilonewtons). The aircraft's maximum fuel payload is 1,600 pounds (725.7 kilograms). Textron says no other super-midsized business jet provides greater range and payload and a higher cruise speed at lower operating costs.
The Longitude features a flat-floor, 6-foot (1.8-meter) stand-up cabin, which Textron says has the most legroom in its class. The company says the use of exclusive soundproofing techniques also make the cabin the segment's quietest. An included wireless cabin management system gives passengers control of window shades, entertainment, cabin temperature, lighting, and more using their personal devices.
Find Your Next Cessna Aircraft
You'll find hundreds of new and used Cessna aircraft for sale on Controller.com, including a large selection of Citation jets from the manufacturer's 525, 550, and 560 series.
Source: Textron Aviation
Posted On: 7/5/2022 4:59:13 PM