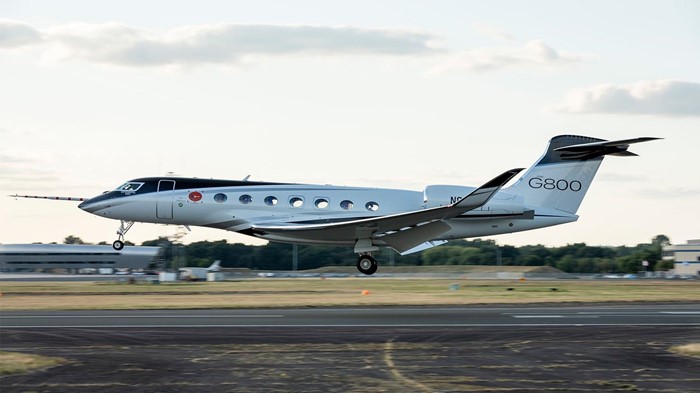 ---
Gulfstream Aerospace completed the first international flight for its all-new Gulfstream G800 on July 15, flying the "ultra-long-range," 19-passenger executive aircraft from Savannah, Georgia, to the Gulfstream Farnborough Service Center in Farnborough, England. Gulfstream is appearing at the Farnborough International Airshow occurring now through July 22. The flight came just weeks after the successful completion of the G800's maiden flight on June 28. G800 deliveries are expected to begin next year.
"To take the G800 on this transatlantic trip so close to first flight is extraordinary," says Mark Burns, Gulfstream president. "Thanks to our strategic planning and the investments Gulfstream has made in our new aircraft programs, we are able to fly the G800 with remarkable efficiency and bring the aircraft directly to customers early in the flight test program, as we have in Farnborough. The Gulfstream Farnborough Service Center is one of our newest and most modern, and it's fitting that the G800 has made its international debut here."
Pushing The Envelope
Gulfstream says the G800 tops all other business industry aircraft with its maximum range of 8,000 nautical miles (14,816 kilometers) at Mach 0.85 and 7,000 nm (12,964 km) at Mach 0.90. The company also says the jet will link passengers to more nonstop destinations around the world than all other business aircraft, and save travelers up to 1.5 hours on flights longer than 6,500 nm (12,038 km).
Since its maiden flight, Gulfstream's flight test team has also completed the G800's first long-duration flight, which lasted more than eight hours. The team has also pushed operations beyond the G800's maximum operating speed of Mach 0.925 and past its maximum cruise altitude of 51,000 feet (15,545 meters).
Service In Farnborough
Gulfstream opened the Farnborough service center in 2020. The facility has more than 200 employees and has earned 30 regulatory approvals. The facility's 225,000 square feet (20,903 square meters) of space can handle up to 13 larger Gulfstream aircraft. Gulfstream provides maintenance, repair, and overhaul (MRO) services at the facility, plus interior refurbishments and aftermarket modifications.
The G800
Introduced in October 2021, the G800 can be configured with up to four living areas. It can sleep up to 10 passengers, who benefit from 100% fresh, never circulated air and a plasma-ionization air purification system, as well as ergonomic seats and 16 of the industry's largest oval windows. Gulfstream says the aircraft's cabin is business aviation's quietest.
The jet's next-generation Gulfstream Symmetry Flight Deck includes dual head-up displays (HUDs) and a new Combined Vision System (CVS). CVS enhances safety and boosts pilots' situational awareness by combining imagery from its Enhanced Flight Vision System (EFVS) and Synthetic Vision System (SVS). The flight deck also features active-control sidesticks and the industry's most extensive use of touchscreen technology, Gulfstream says.
Find Your Next Gulfstream Aircraft
You'll find plenty of Gulfstream aircraft for sale at Controller.com, including new and used business jets like the GV, G200, G450, G550, and G650ER.
Source: Gulfstream
Posted On: 7/18/2022 4:55:36 PM