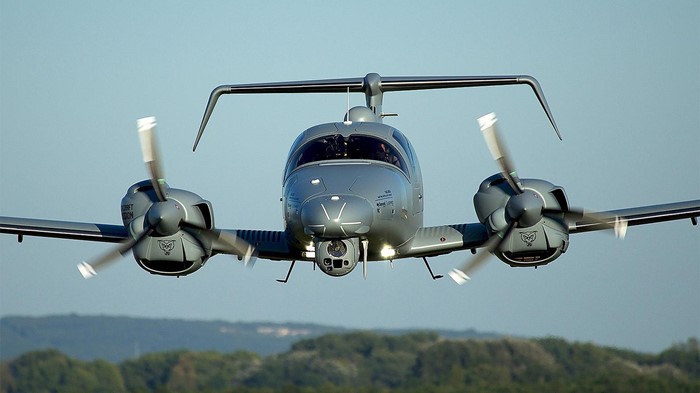 ---
Diamond Aircraft will conduct a demonstration tour this summer throughout North America of its DA62 MPP (Multipurpose Platform) flagship special-mission aircraft. The tour runs from early July to early September, and will mark the first time for the DA62 MPP to fly in the United States. The Austrian manufacturer is conducting the tour along with Air Bear Tactical Aircraft of Santa Ana, California, provider of mission-ready airborne law enforcement solutions and the authorized U.S. distributor for the DA62 MPP.
"In cooperation with Air Bear and all other partners, we put a lot of effort into this demo as it is so important to show the airplane and its capabilities in the field," says Diamond Aircraft Director, Special Mission Aircraft, Markus Fischer. "There is no question that we expect a big boost to the U.S. market and to generate a lot of interest and even some bookings during the demo."
U.S. Deliveries Coming
Diamond expects to begin U.S. deliveries of the Federal Aviation Administration (FAA)-certified DA62 MPP in early 2023. The tour kicks off at Diamond's facility in London, Ontario, Canada, and includes a stop at the Airborne Public Safety Association's APSCON 2022 conference and exposition occurring July 25 to 30 in Reno, Nevada, where it will be on display. Diamond will configure the DA62 MPP demo model with a suite of mission equipment typically used by airborne law enforcement operators.
The DA62 MPP
Diamond's special-mission aircraft portfolio also includes the smaller DA42 platform. Diamond provides comprehensive turnkey solutions with a single point of contact for search and rescue, coastline and border patrol, disaster management and firefighting, commercial aerial survey, and other applications.
The carbon-fiber-constructed DA62 MPP features two 180-horsepower (134-kilowatt) Austro Engine AE 330 turbocharged 2-liter jet fuel engines and a glass cockpit equipped with autopilot. It can be used for one- or two-pilot operation, and can stay in the air for up to eight hours.
Find Your Next Diamond Aircraft
You'll find a big selection of new and used Diamond aircraft for sale on Controller.com, including DA62 and DA42 piston twins.
Source: Diamond Aircraft
Posted On: 5/12/2022 4:34:01 PM