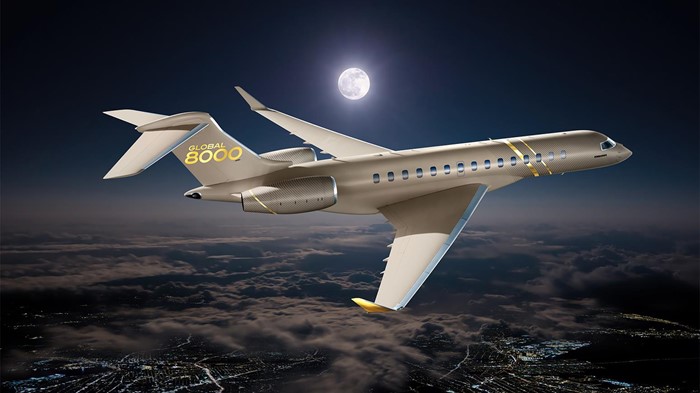 ---
Bombardier has unveiled its new 19-passenger Global 8000, business aviation's fastest (Mach 0.94) and longest-range (8,000 nautical miles; 14,816 kilometers) jet. Add in a cabin with four equal living spaces, and the Global 8000 is like two aircraft in one, Bombardier says. Expected to enter service in 2025, the jet will replace the Global 7500 as Bombardier's Global family flagship. Once it enters service, current Global 7500 operators will be able to retrofit their aircraft to match the Global 8000's performance capabilities.
A Peak At Performance
Bombardier began putting the Global 8000's performance to the test in May 2021 using a Global 7500 flight test vehicle, which repeatedly surpassed Mach 1.015. In addition to becoming the world's fastest business jet and the fastest in civil aviation aircraft since the Concorde, Bombardier says the test aircraft became the first Transport Category airplane to fly supersonic using sustainable aviation fuel (SAF).
The Global 8000's Smooth Flĕx Wing design and twin GE Passport engines, each producing 18,920 pounds-force (81.16 kilonewtons) of thrust, make possible its range, short-field capability in all weather conditions, and an industry-first transcontinental ultra-high-speed cruise speed of Mach 0.92. Bombardier says it engineered the wing design to combine the exceptional low-speed agility of a high-lift wing with the unrivalled speed and range of a high-speed wing. The Global 8000 will provide access to such city pair connections as Dubai to Houston, Singapore to Los Angeles, and London to Perth.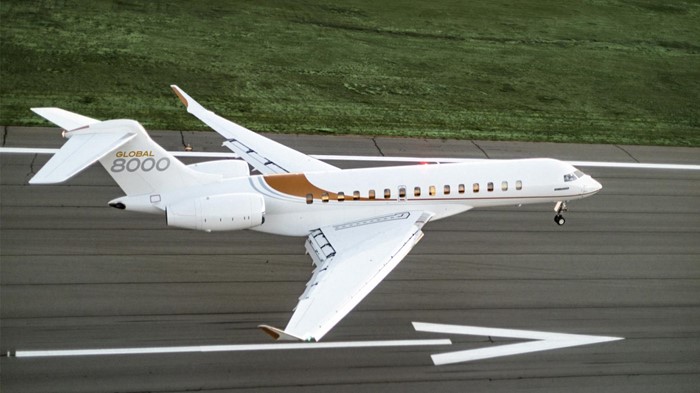 ---


Here's To Your Health
Bombardier says the Global 8000's integrated Pũr Air and advanced HEPA filter technology add up to the industry's healthiest cabin, with the cleanest cabin air and fastest fresh air replacement. The system's hospital-grade HEPA filter can capture up to 99.99% of viruses, allergens, bacteria, and other particles, and its activated carbon filter removes volatile organic compounds (VOCs), odors, and gases.
Comfort is another of the Global 8000's calling cards. The jet boasts a class-leading cabin altitude of 2,900 feet (884 meters) flying at 41,000 ft (12,497 m); its cabin comes equipped with the Soleil circadian lighting system and Bombardier's award-winning Nuage seat, which includes a zero-gravity position. The cabin's four personalized suites include a conference area with six-seat meeting and dining space, a Principal Suite with full-size bed with customizable headboard, and an En Suite with stand-up shower. For work or relaxing, the aircraft is outfitted with Ka-band worldwide internet connectivity, a 40-in. 4K television and home theater surround-sound setup, and a l'Opéra directional audio sound system providing first-ever seat-centric sound technology. Bombardier's nice Touch CMS (cabin management system) with OLED touch dial makes it easy to adjust cabin settings.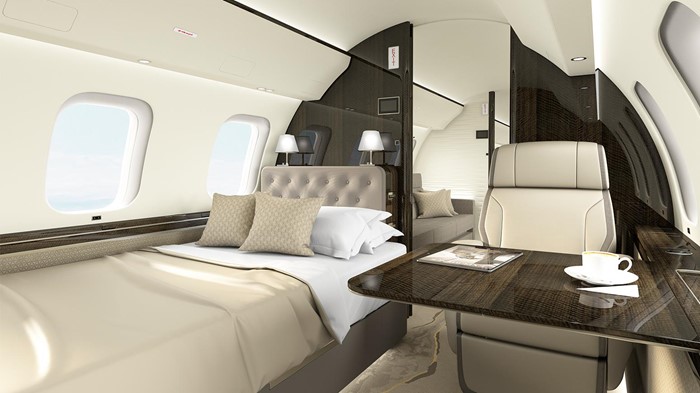 ---


The Global 8000 In Action
To Global 8000 includes a Bombardier Vision flight deck with next-generation fly-by-wire technology and enhanced vision and synthetic vision systems. Maximum operating altitude is 51,000 ft (15,545 m), and initial cruise altitude is 43,000 ft (13,106 m). The jet has a high-speed cruise of Mach 0.90 and typical cruise speed of Mach 0.85.
Find Your Next Bombardier Business Jet
Controller.com offers a big selection of new and used Bombardier aircraft for sale, including Global 7500, 6000, and 5000 business jets.
Source: Bombardier
Posted On: 5/23/2022 5:10:32 PM