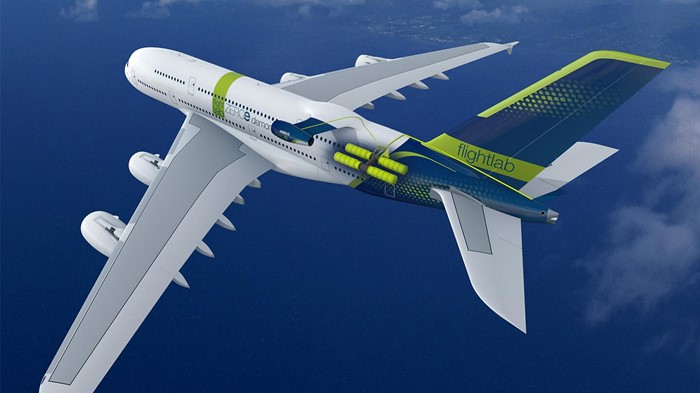 ---
Commercial and corporate jet manufacturer Airbus wants to introduce the world's first zero-emission commercial aircraft by 2035. The company took a major step toward that goal this week by launching a multi-year ZEROe demonstrator program to test various hydrogen combustion technologies. Airbus' A380 MSN1, the first-ever production unit of the largest, most spacious passenger jet ever built, will serve as an on-ground and in-air test platform.
"The A380 MSN1 is an excellent flight laboratory platform for new hydrogen technologies," says Mathias Andriamisaina, Airbus ZEROe demonstrator leader. "It's a safe and reliable platform that is highly versatile to test a wide range of zero-emission technologies. In addition, the platform can comfortably accommodate the large flight test instrumentation that will be needed to analyze the performance of the hydrogen in the hydrogen-propulsion system."
The ZEROe Demonstrator
Demonstrator aircraft are key to developing new aviation technologies, aiding in the testing and validation of designs, processes, fuels, equipment, and more, and showcasing those developments to interested parties. Other recent Airbus demonstrator programs include its E-Fan (all-electric flight), E-Fan X (hybrid-electric propulsion), and Vahana and CityAirbus (sustainable urban air mobility) projects.
The ZEROe program will entail mounting four liquid hydrogen tanks in a caudal, or near-tail, position on the test aircraft as well as a hydrogen combustion engine along the rear fuselage. A liquid hydrogen distribution system will feed into a conditioning system where liquid hydrogen will be converted to a gaseous form before entering the engine to be combusted for propulsion.
"The only way to determine which hydrogen technology is best-placed to fuel our ZEROe concept aircraft is to test, test, test," says Matthieu Thomas, ZEROe Aircraft lead architect.
---


Airbus & CFM International
Airbus notes that hydrogen gas—not diesel or gasoline—fueled the world's first internal combustion engine in 1804. Throughout the 20th century, numerous entities tested the feasibility of hydrogen-powered internal combustion engines. In 1998, the world's first experimental commercial aircraft using liquid hydrogen, the Tupolev Tu-155, entered testing, eventually completing about 100 test flights.
For ZEROe, Airbus is partnering with CFM International (a joint venture between GE Aviation and Safran Aircraft Engines) to develop a hydrogen engine. Plans are to modify a GE Passport turbofan to run on hydrogen. Airbus says the engine was chosen for its size, advanced turbo machinery, and other characteristics. The first test flight is expected within five years, after on-ground testing of the engine, tanks, and distribution system wraps up.
"By leveraging the expertise of American and European engine manufacturers to make progress on hydrogen combustion technology, this international partnership sends a clear message that our industry is committed to making zero-emission flight a reality," says Airbus CTO Sabine Klauke.
Find Airbus Aircraft For Sale
Controller.com is a leading resource for finding new and used Airbus aircraft for sale, including an ever-changing lineup of ACJ320, A320, and A330 jets.
Source: Airbus
Posted On: 3/1/2022 11:36:53 AM