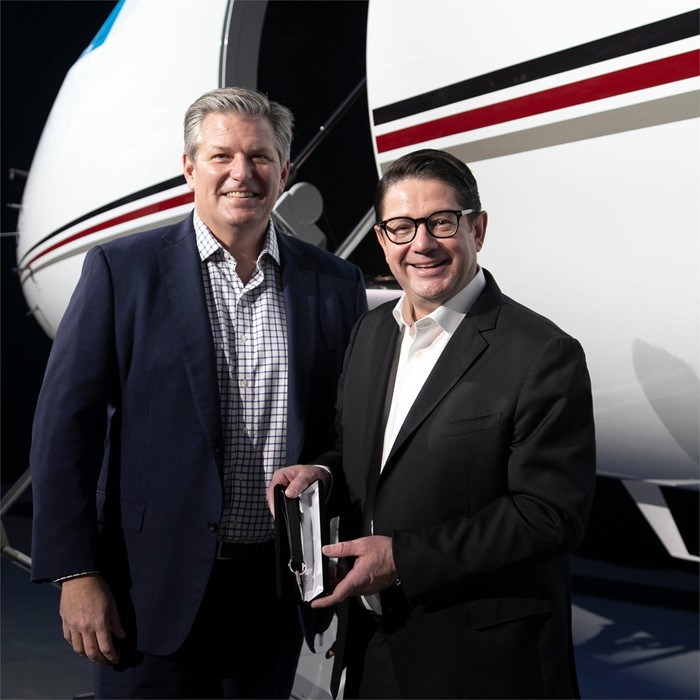 ---
Bombardier's Global 7500 business jet was recently at the center of two notable accomplishments for the aerospace company. The first involved the delivery of the first of a firm order for 20 Global 7500 aircraft placed by fractional aircraft ownership provider NetJets. The delivery also marked Bombardier's 1,000th delivery of an aircraft from its Global family of business jets, which also includes the 5500, 6500, and 8000.
Added Value Appreciated
Bombardier says NetJets' Global 7500 order will redefine the provider's large-cabin, long-range offering as well as broaden travel options for its customers. Thanks to the Global 7500's 7,700-nautical-mile (14,260-kilometer) range, NetJets owners will have the ability to complete such nonstop trips as New York to Beijing and San Francisco to Sydney. NetJets President of Sales, Marketing, and Services Patrick Gallagher says the order adds a new dimension his company.
"At a time when demand for our aircraft is at its highest, our strategy is focused on continuing to deliver solutions that meet our owners' needs and expectations," Gallagher says. "We anticipate our owners will appreciate the added value the aircraft brings and know they will be thrilled to experience flight in the Global 7500 business jet."
An Economic Driver
Bombardier says the Global 7500 is the world's largest and longest-range business jet, and the only business jet large enough to accommodate four true living spaces. The aircraft is available with a master suite with full-size bed, a dedicated crew suite, and a full-size kitchen. It can seat up to 19 passengers, and features Nuage seats, Soleil lighting, and the Pũr Air cabin filtration system with advanced HEPA filter. The filter can capture up to 99.99% of allergens, bacteria, and viruses while replacing cabin air with 100% fresh air in 90 seconds or less. Other features include a Smooth Flex Wing and Bombardier Vision flight deck, which features fly-by-wire technology and side-stick controllers, a head-up display, an enhanced vision system, and a synthetic vision system.
---
In conjunction with the two announcements, Bombardier also detailed a PricewaterhouseCoopers-led study focused on the Global 7500's economic impact in Québec. Bombardier, which has headquarters in Montréal, says the study indicates that between 2010 and 2019, development of the Global 7500 program contributed to and facilitated a $4.8 billion gross domestic product (GDP) economic footprint in Canada, and resulted in 3,386 full-time-equivalent jobs per year. The study also shows that Bombardier expects to contribute and facilitate $2 billion in GDP per year to the Canadian economy, and an average of 8,456 jobs per year.
Find Bombardier Aircraft
Controller.com offers a big selection of new and pre-owned Bombardier aircraft for sale, including Global 7500s, 6000s, and 5000s.
Source: Bombardier
Posted On: 12/7/2021 3:49:53 PM