---
Daher recently made the 300th delivery of its multipurpose, single-engine Kodiak turboprop. Daher says the high-wing, float-ready Kodiak, introduced in 2007, fills a niche between a helicopter and a business jet due to its ability to transport passengers and cargo in its convertible cabin. This flexibility makes the Kodiak a good fit for numerous mission types, including aerial mapping, air ambulance, air taxi, parachute, and ISR (intelligence, surveillance, and reconnaissance) operations. The current Kodiak 100 Series III was introduced in March 2021, and is available in an eight-seat Executive Edition with club seating, air conditioning, enhanced oxygen capacity, and an option for premium exterior paint.
The Kodiak Fleet
Quest Aircraft Company originally introduced the Kodiak as a STOL (short take-off and landing) model for carrying out humanitarian missions. French conglomerate Daher acquired Quest in 2019; it says the Kodiak 100 is now certified in roughly 70 countries, and more than half the Kodiak global fleet is registered in North America. The fleet has charted more than 278,700 combined flight hours around the world.
"Every day around the world, Kodiak aircraft meet the mission: from delivering crucial aid in conflict zones to providing comfortable airlift for business and personal travel," says Nicolas Chabbert, CEO of Kodiak Aircraft and senior vice president of Daher's Aircraft Division.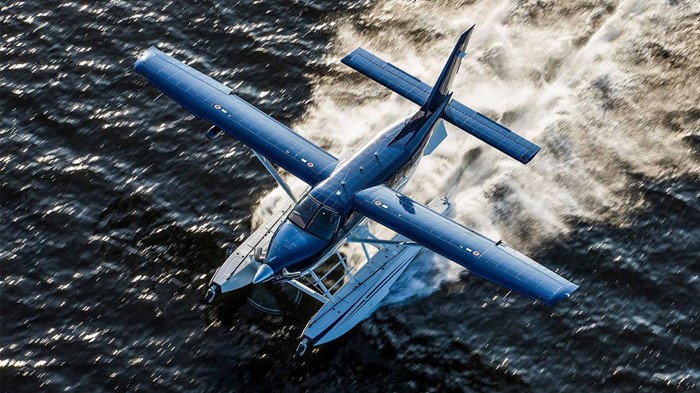 ---


The Kodiak Series III
The Kodiak 100 Series III can seat up to 10 passengers. It's equipped with a single Pratt & Whitney Canada PT6A-34 engine, and features such upgrades as the first integration of the Garmin GWX 75 Doppler-ready color weather radar system as well as Garmin's G1000 NXi flight deck with GFC700 autopilot, angle-of-attack (AOA) indicator, and Garmin Synthetic Vision Technology. The aircraft also comes with 29-inch (73.7-centimeter) tires, the largest available for Kodiak airplanes.
The Kodiak 100 Series III can take off from unprepared airstrips measuring 1,000 feet (304.8 meters), and it has a 1,132-nautical mile (2,096-kilometer) flight range and a maximum speed of 183 ktas. The turboprop can haul a 3,530-pound (1,601-kilogram) useful load, and it has a landing weight of 7,255 lbs (3,290 kg). The Kodiak 100 Series III comes with Daher's all-inclusive, four-year Kodiak Care maintenance program that covers scheduled maintenance up to the fourth annual inspection or 1,000 hours of total flight time, whichever comes first.
Find Daher Aircraft
You'll find a number of new and used Daher aircraft for sale on Controller.com, including Kodiaks and single-engine turboprop Daher TBM 910 and TBM 940 models.
Source: Daher
Posted On: 12/15/2021 11:04:59 AM