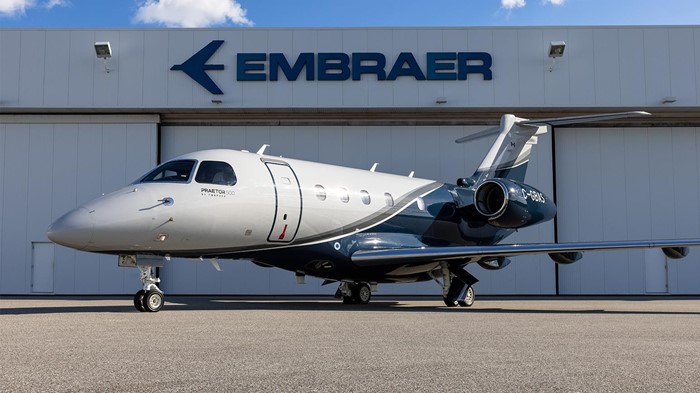 ---
Embraer recently completed the first delivery of a Praetor 500 executive jet made to Canada, handing it over to AirSprint Private Aviation, operator of the largest fractional fleet of private aircraft in that country. AirSprint will soon have three Praetor 500s in its fleet, thanks to an agreement earlier this year to replace two of its Embraer Legacy 450s to the newer 500s. The company currently has a total of nine Embraer aircraft in its fleet, along with Cessna Citation CJ2+ and CJ3+ business jets.
An Expanding Fleet
Embraer announced the Praetor 500 in 2018 simultaneously with the Praetor 600 and delivered the first Praetor 500 in 2019. The aviation manufacturer claims the midsize Praetor 500 and super-midsize 600 are the most disruptive and technologically advanced business jets in their respective classes. The Praetor 500 can seat up to nine passengers and has a 3,340-nautical-mile (6,186-kilometer) range and a top cruise speed of 466 ktas.
"We are pleased that our partnership with AirSprint, which began in 2016, continues to grow as they expand their fleet," says Embraer Executive Jets president and CEO Michael Amalfitano. "When we completed the first Legacy 450-to-Praetor 500 conversion earlier this year, they were delighted to provide their customers with direct access to more Canadian destinations and experiences. The Praetor 500 is an excellent choice as the company continues to grow and holds the highest standards for all customers."
---


Coast To Coast
Embraer says the Praetor 500's best-in-class range and unparalleled runway performance in snowy and wet conditions help make it an excellent fit for AirSprint to provide nonstop coast-to-coast flights across Canada and service into North America, Caribbean, Central America, and Europe. The Praetor 500's technology features include a Rockwell Collins Pro Line Fusion flight deck, full fly-by-wire controls, and turbulence reduction ability. AirSprint customers will travel in a true 6-foot (1.8-meter)-tall, flat-floor cabin measuring 24 ft (7.3 m) long and featuring stone flooring, a wet galley, best-in-class baggage space, and a vacuum lavatory. AirSprint's new Praetor is also the firm's first new jet to feature its new livery.
"To be the first in Canada to accept a new Embraer Praetor 500 helps to solidify our position as an industry leader," says James Elian, AirSprint president and CEO. "AirSprint spearheaded fractional ownership in Canada. We were the first then, and over 20 years later, our team continues to deliver a private aviation experience above all others. Our growth as a company is due to our fractional owners' commitment, and our longstanding relationships with stellar companies like Embraer."
Find The Right Embraer Aircraft
Controller.com is where the aviation industry turns for new and used Embraer and Cessna aircraft for sale every day.
Source: Embraer
Posted On: 10/28/2021 5:01:56 PM