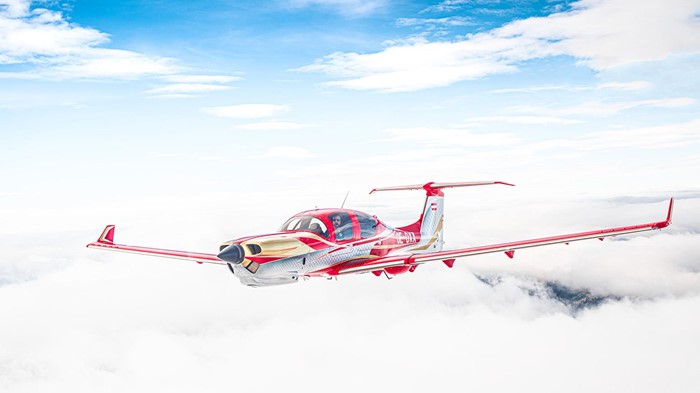 ---
Following an eight-day, 12-leg journey late last month, Diamond Aircraft landed the first DA50 RG (retractable gear) aircraft from its DA50 program in China. The award-winning, five-seat, piston single aircraft was on display complete with special demonstrator livery at the biennial China International Aviation & Aerospace Exhibition (or Airshow China 2021) in Zhuhai, Guangdong, China, through October 3rd. Diamond Aircraft also had DA20, DA40, DA42, and DA62 aircraft on static display.
"We are very proud of these latest milestones for our DA50 RG," says Diamond Aircraft Austria CEO Liqun (Frank) Zhang. "Another long-distance flight that highlights the reliability, safety, and performance of this remarkable aircraft."
A 45-Hour Journey
Diamond Aircraft introduced the DA50 RG in 2017, and says it plans to eventually also introduce six- and seven-seat variants. The aircraft manufacturer launched the DA50 RG in 2020, and the aircraft received its European Union Aviation Safety Agency (EASA) type certification in September 2020. Federal Aviation Administration (FAA) certification is expected by year's end. The aircraft has already won 2020 and 2021 1st Place Aerokurier Innovation Awards as well as a 2021 iF Design Award in the Product discipline.
Pilots from Diamond Aircraft Austria and Wanfeng Diamond Aircraft China spent 45 hours ferrying the DA50 RG some 7,033 nautical miles (13,025 kilometers) from Austria to China. Diamond Aircraft Austria Inspection Group Leader Martin Richter-Trummer and Head of Production David Bausek piloted the aircraft from Austria, to Guangzhou, China. Wanfeng Diamond Aircraft China production test pilot Wang Ping then flew the aircraft to the Zhuhai airport, landing September 27th.
---


Fast, Safe Travel
Featuring all-carbon construction and an interior that Diamond Aircraft calls "limousine-like," the DA50 RG is powered by a single six-cylinder 300-horsepower (223.7-kilowatt) Continental CD-300 jet fuel engine featuring a dual-redundant full authority digital engine control (FADEC) system. The plane has a 750-nm (1,389-km) range and a maximum speed of 181 ktas.
Bausek, the DA50 program's original lead design engineer, calls the plane "the ultimate travel aircraft." "The handling in any flight segment is so easy while delivering great comfort and space," he says. "Relaxed arrival at your journey destination is guaranteed. Originally the DA50 was developed with a fixed gear, but the decision to switch to retractable gear was the right one. In combination with superb aerodynamic design, supported by cowl flaps for optimized performance, you and your passengers travel fast and safe—wherever you want to go, whenever you want to go."
Find The Right Diamond Aircraft
You'll find a big selection of new and used Diamond aircraft for sale every day at Controller.com, including DA50 RGs, DA20s, DA40s, DA42s, DA50s, and DA62s.
Source: Diamond Aircraft
Posted On: 10/5/2021 9:13:34 AM