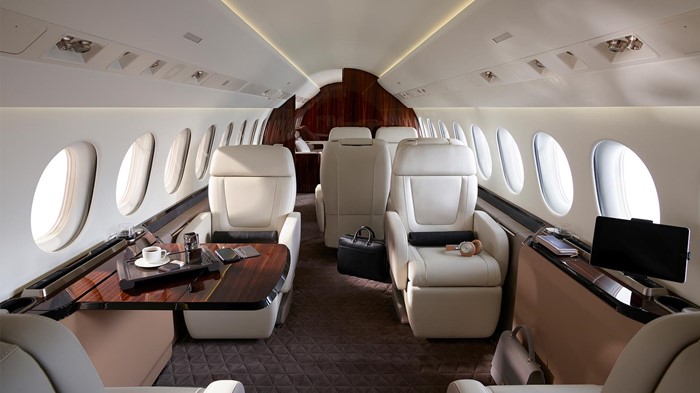 ---
Dassault Aviation has updated its flagship Falcon 8X tri-jet model's cabin with numerous comfort-centric features, including some inspired by the award-winning cabin of the manufacturer's own Falcon 6X twin-jet. The French aviation company will display the Falcon 8X's revised cabin experience at the National Business Aviation Association-Business Aviation Convention & Exhibition (NBAA-BACE) set to take place October 12th to 14th in Las Vegas at the Henderson Executive Airport. Dassault will also display full-scale cabin mockups of its upcoming Falcon 10X and Falcon 6X executive jet models at the show.
"The upgrade incorporates the latest cabin technology and contemporary stylistic thinking from our interior teams," says Dassault Aviation Chairman and CEO Eric Trappier. "We've taken a proven platform, and, with the help of extensive customer input, enhanced it with a range of new features intended to enhance cabin comfort."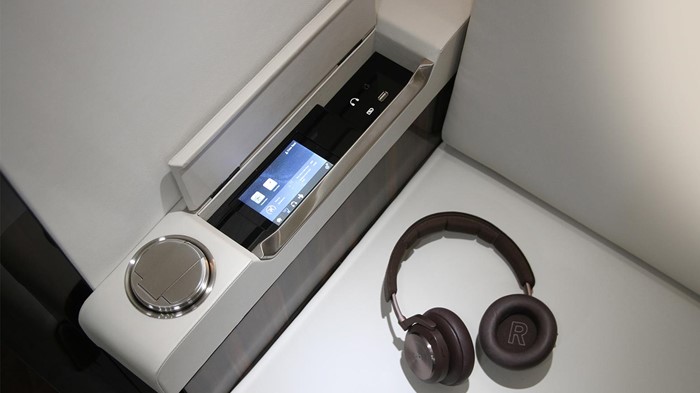 ---


Luxury Redefined
The Falcon 6X premium cabin that inspired several updates in the Falcon 8X's revamped cabin won both a 2021 Red Dot: Best of the Best award and a 2020 International Yacht & Aviation Award. The Falcon 8X cabin is available in several configurations, including such living space options as a roomy galley, plus-sized staterooms, and an optional aft lavatory with shower. Enhanced features include new programmable LED lighting with sunrise/sunset functionality that adjusts to new time zones and stimulates a natural circadian rhythm during lengthy intercontinental flights, Dassault says. The 16-passenger jet has a 6,450-nautical mile (11,945-kilometer) flight range.
Other improvements include new acoustics that keep average noise levels below 50 dB through the use of precise acoustic mapping, isolation mounts, noise reduction materials, and environment systems fine-tuned to modulate potentially bothersome frequencies. Also on tap are more mobile device storage and charging areas in the mid-cabin bulkhead, and an entryway/galley section with a more comfortable crew rest area and a more efficient galley with a larger sink, a new faucet, enhanced lighting, a larger chiller, and more storage space.
---


At Your Fingertips
Falcon 8X passengers will also enjoy easier control of cabin management and entertainment functions through Dassault's new Innovative Cabin System (ICS) activated from their mobile devices or cabin touch panels flush-mounted into side ledges. Cabin-wide Bluetooth connectivity enables streaming music through the jet's speakers or a wireless headset. The ICS app also uses Bluetooth to pinpoint a passenger's seat location to offer temperature, lighting, and window shade setting suggestions.
Travelers can also access cabin connectivity applications for videoconferencing, Voice over Internet Protocol (VoIP) calls, email, web browsing, and more. The FalconSkyView system even allows for watching a livestream of the Falcon 8X's forward travel when external cameras are in place.
Find The Right Dassault Aircraft
Controller.com offers a big selection of new and used Dassault Aviation business jets for sale, including Falcon 8X aircraft.
Source: Dassault Aviation
Posted On: 10/8/2021 4:57:39 PM