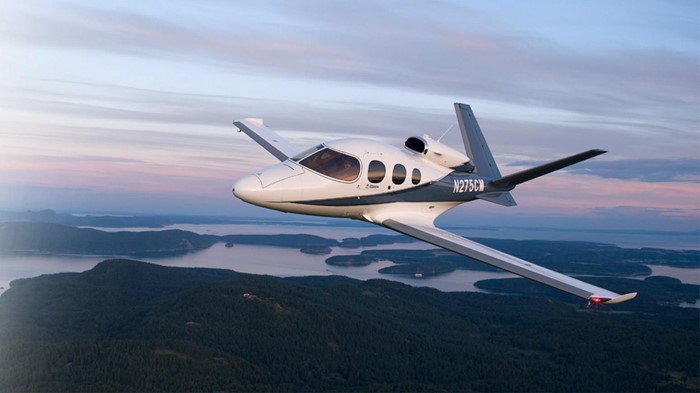 ---
Cirrus Aircraft is showcasing its G2+ Vision Jet at this week's National Business Aviation Association-Business Aviation Convention & Exhibition (NBAA-BACE), emphasizing the value of its enhanced performance and features to charter service providers, corporate owners, and flight schools. NBAA-BACE runs through October 14 in Las Vegas.
Certified in more than 40 countries, the Vision Jet launched in 2016 as part of a new category Cirrus calls the "Personal Jet." Cirrus Aircraft won at Robert J. Collier Trophy in 2018 for its whole-airframe Cirrus Aircraft Parachute System (CAPS), which comes standard on the Vision Jet; the manufacturer released a G2 (second-generation) variant of the aircraft in 2019.
Meaningful Upgrades
The upgraded G2+ Vision Jet features an optimized Williams FJ33-5A engine that provides 20% increased takeoff performance in hot and high conditions. It also comes equipped with Gogo InFlight Wi-Fi connectivity, which is available throughout the United States and Canada, and is available in new exterior colors including Titan Grey, Volt, and Bimini Blue. The aircraft boasts an upgraded Garmin Perspective Touch+ flight deck and comes with an option for the Safe Return Emergency Autoland system, certified by the Federal Aviation Administration (FAA) and European Aviation Safety Agency (EASA).
Cirrus Aircraft says performance enhancements made to the G2+ give it access to more airports in a wider range of weather conditions, including airports with 4,000-foot (1,219-meter) runways. The G2+ also provides multiple cabin configurations, with options for two passengers, five passengers, or no passengers for hauling applications. The aircraft has a 1,400-pound (635-kilogram) payload capacity, an expanded 31,000-ft (9,450-m) flight envelope, a 1,275-nautical-mile (2,360-kilometer) range, and a top cruise speed of 305 ktas.
Industry Accolades
A Vision Pilots and Owners (VPO) program is available to Vision Jet owners that provides support and equipment options. Participants can interact with Cirrus Aircraft via a private website and attend exclusive events among other abilities. Cirrus Aircraft also provides exclusive type-rating training through its Cirrus Approach program.
"Being single-engine, single-pilot, and a fairly simple aircraft to operate, I can tell you that I get emails and/or phone calls from some of the top people at Sweetwater asking me about a potential trip in the Vision Jet," says Sweetwater Aviation General Manager and Flight Instructor Joel Pierce. "I think they're always a little bit impressed and excited when I tell them what our actual cost—our variable direct cost—would be to take that trip."
On-demand charter service provider Verijet also sings the praises of the Vision Jet, citing its flexible mission abilities, unparalleled safety, transformative cabin, and comfortable lifestyle features as reasons for building a fleet of SF50-series Vision Jets.
"The SF50 Vision Jet powers Verijet, allowing us to be the safest, most efficient airline on and for the planet," says Verijet Chairman and CEO Richard Kane. "With the Vision Jet and our powerful AI capabilities, Verijet triples the speed and efficiency of short-haul in perfect safety and with reduced carbon and noise pollution."
Find The Right Cirrus Aircraft
You'll find a big selection of new and pre-owned Cirrus Aircraft for sale on Controller.com, including Vision Jets.
Source: Cirrus Aircraft
Posted On: 10/14/2021 11:08:42 AM