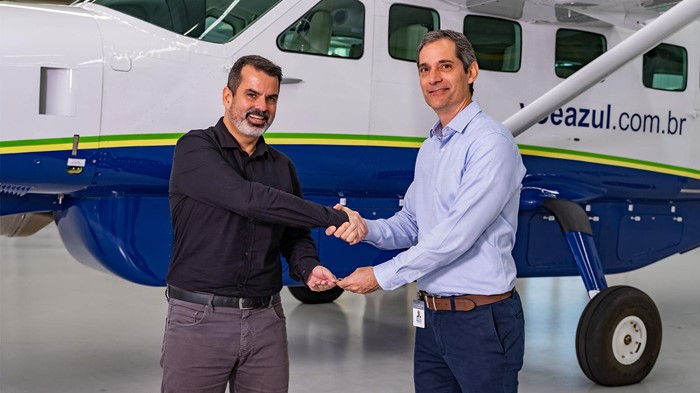 ---
Textron Aviation recently delivered the first two of what could end up being 10 Cessna Grand Caravan EX single-engine turboprops to Azul Conecta, a Brazilian aviation company with a fleet that currently includes 18 Caravan turboprops. A subsidiary of Azul Airlines, Azul Conecta will use the planes to transport travelers from smaller cities and remote locations throughout Brazil, helping to expand the country's regional connectivity services. The carrier placed an initial order of five Grand Caravan EXs, and has options to purchase another five. Three more deliveries are expected through early 2022.
"The Caravan platform provides a valuable form of transportation throughout Brazil, especially for people in rural areas," says Textron Aviation Vice President of Latin America Sales Marcelo Moreira. "It's a proven and versatile platform in Latin America, flying passengers, cargo, or both. With its combination of performance and rugged reliability, the Grand Caravan EX is capable of reaching remote areas that other aircraft cannot; connecting many people throughout the region and supporting the development and economic growth of the country."
The Journey To 200
Cessna brand owner Textron Aviation calls the Grand Caravan EX "the ultimate utility vehicle." In addition to use by regional airlines, charter operators, and cargo carriers, the plane can perform recreation, training, humanitarian, and other missions. It's available in 13-seat club and 10-, 13-, and 14-seat commuter configurations. Roughly 450 Caravan and Grand Caravan EX aircraft now operate in Latin America, including more than 150 in Brazil. Azul Conecta's new Grand Caravan EXs will play a role in Azul Airlines' plans to develop a Brazilian regional and sub-regional aviation company.
"From August 2020 until now, we have already transported more than 40,000 customers, opened 12 new destinations, and completed more than 15,000 flight hours," says Azul Conecta CEO Flavio Costa. "However, we are growing, and the announced purchase of new planes coming from the factory is a demonstration that we are expanding our operations in the country. Azul Conecta is already a great success in the interior cities and, connecting with Azul Airlines, we will reach the milestone of 200 cities served in Brazil in the coming years."
The Grand Caravan EX
Textron Aviation has delivered more than 2,900 aircraft from the Caravan platform worldwide. Caravans are certified in 100 countries, and have completed roughly 24 million flight hours. The Grand Caravan EX is powered by a single Pratt & Whitney Canada PT6A-140 engine and includes a Garmin G1000 NXi avionics suite. The plane has a 912-nautical-mile (1,689-kilometer) flight range, a maximum cruise speed of 185 ktas, a 3,532-pound (1,602-kilogram) useful load, and a 1,410-lb (640-kg) baggage capacity.
Find Your Cessna Caravan Aircraft
Controller.com offers a huge selection of new and used Cessna aircraft for sale, including numerous Caravan and Grand Caravan EX planes.
Source: Textron Aviation
Posted On: 10/6/2021 10:58:27 AM