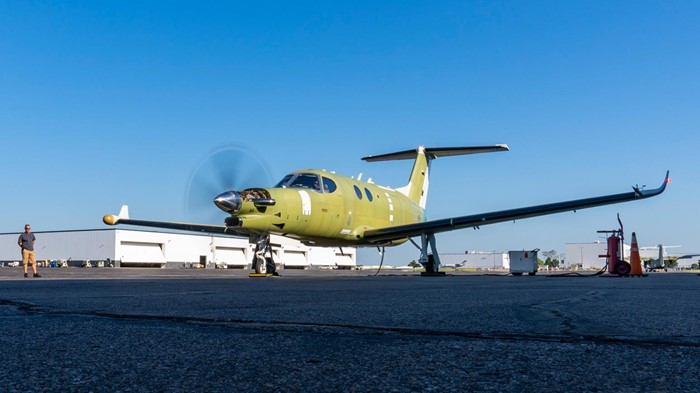 ---
This week, the upcoming single-engine, clean-sheet design Beechcraft Denali turboprop took another step toward a first flight later this year, as initial ground engine runs on a Denali prototype were wrapped up. The Denali features GE Aviation's new Catalyst powerplant, billed as the first clean-sheet engine in more than 30 years in the turboprop segment. The Full Authority Digital Engine Controlled (FADEC) engine has already logged over 2,450 testing hours. Beechcraft brand owner Textron Aviation expects the Denali to receive Federal Aviation Administration (FAA) certification in 2023.
A Catalyst For Power
A Catalyst engine was installed on the Denali prototype earlier this summer, and the aircraft was powered up for the first time. Initial ground test engine runs verified the engine and fuel system's functionality, the aircraft's electrical systems, and the avionics interface. Textron is currently developing two more flight test articles, and will use three additional ground test craft for airframe static and fatigue tests and cabin interior testing and development.
GE Aviation says the Catalyst uses less fuel than older turboprop technologies, thus producing lower emissions. The Denali can use sustainable aviation fuel, which helps lower emissions even further. Textron notes that the Catalyst is the world's first turboprop engine to use 3D-printed parts, adding that the use of additive manufacturing turned what was previously 855 engine parts into just 12. The engine is rated for 1,300 shaft horsepower (969 kilowatts), and features a single-lever power and propeller control that reduces the pilot's workload.
---


Inside The Denali
Textron says the Denali has as the most spacious cabin in its segment. The flat-floor cabin interior measures 4.8 feet (1.5 meters) high by 5.3 ft (1.6 m) wide by 16.75 ft (5.1 m) long and can be converted between passenger and cargo configurations. Passenger configurations include a standard, executive six-seat configuration with included refreshment center or an optional nine-seat configuration for commuter applications. The plane has a 1,600-nautical-mile (2,963-kilometer) range with four passengers and maximum cruise speed of 285 ktas.
The aircraft uses a new, 105-inch (266.7-centimeter)-diameter McCauley composite five-blade constant-speed propeller with full feathering, reversible pitch, and ice protection. Its cockpit is equipped with a Garmin 3000 avionics suite with three 14-inch widescreen displays and two touchscreen control panels. Garmin's auto-throttle interfaces with the automatic flight control system (AFCS) and flight management system (FMS), giving pilots speed control throughout all flight regimes.
Find Your Beechcraft Aircraft
Controller.com offers hundreds of new and used Beechcraft aircraft for sale every day, including Beechcraft turboprops like King Air 90s, 200s, and 350s.
Source: Textron Aviation
Posted On: 8/27/2021 2:28:42 PM