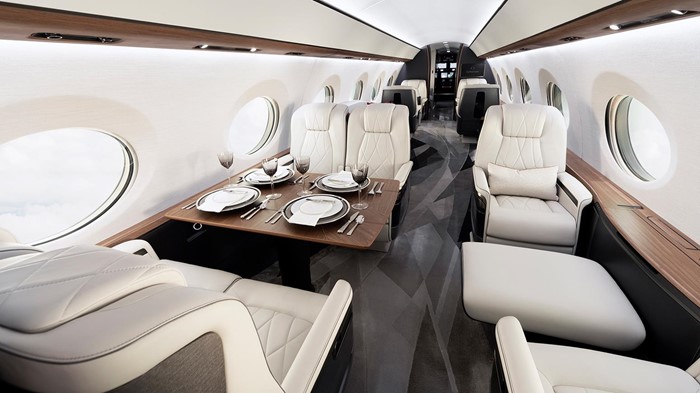 ---
The upcoming G700 business jet from Gulfstream Aerospace already possessed a comfortably low cabin altitude as well as a spacious, innovative, and flexible cabin. Recently, however, Gulfstream announced the G700 would have an even lower cabin altitude: 2,916 feet (889.8 meters) when flying at 41,000 ft (12,497 m). Previously, by contrast, Gulfstream had announced a 3,290-ft (1,003-m) cabin altitude when flying at the same altitude.
"Our focus on the customer experience is embedded in our commitment to continuous improvement," says Mark Burns, Gulfstream president. "This new, industry-leading cabin altitude is a result of our ongoing investments in customer health and safety, and will provide even more comfort for passengers over the ultralong-range flights the G700 is capable of achieving."
Ready For Passengers In 2022
Gulfstream expects the G700 will enter into service next year. Introduced in October 2019, a fully outfitted production test aircraft flew for the first time this April. Gulfstream is now at work putting the aircraft's interior through 15,500 test points to validate all facets of the all-new cabin. Measuring 6.3 ft (1.9 m) high by 8.2 ft (2.5 m) wide by 56.9 ft (17.3 m) long, the cabin can seat up to 19 passengers and sleep up to 13.
The G700's flexible cabin features up to five living areas. The aircraft also has 20 panoramic oval windows (billed as the largest available), a "true circadian" lighting system, 100% fresh air that's never recycled, and the G700 Classic Seat (winner of a 2020 International Yacht & Aviation Award). The cabin also features Jet ConneX Ka-band Wi-Fi connectivity.
More Than Cabin Comfort
The G700 includes a Symmetry Flight Deck featuring active-control sidesticks, touch-screen avionics, and Phase-of-Flight technology. The jet has two all-new, high-thrust Rolls-Royce Pearl 700 engines and offers a 7,500-nautical mile (13,890-m) flight range and Mach 0.925 maximum speed.
Find Your Gulfstream Jet
You'll find a big selection of new and used Gulfstream aircraft for sale on Controller.com, including a number of G200s, G280s, G450s, and G550s.
Source: Gulfstream Aerospace
Posted On: 7/5/2021 4:13:26 PM