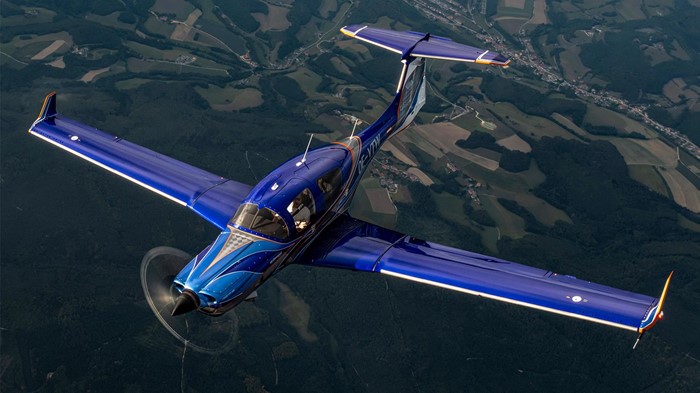 ---
Diamond Aircraft's DA50 RG is still considered brand new, touring Europe with touching down for select airports and events, but it has won the 1st Place Aerokurier Innovation Award twice in a row. Aerokurier Innovation Award winners are selected in eight categories by readers of Aerokurier, a monthly German aviation magazine. This year, the DA50 RG topped the Otto Aviation Celera 500L and Tecnam P2010 TDI in the Motorized Aircraft category. The DA50 RG also won a 2021 iF Design Award in the Product discipline earlier this year.
All The Right Accents
Diamond Aircraft introduced the five-seat DA50 RG in 2017 as part of its DA50 program, which is to eventually also produce six- and seven-seat variants with one and two engines. The DA50 RG received its European Union Aviation Safety Agency (EASA) type certification last fall and is expected to receive Federal Aviation Administration certification by year's end. Diamond Aircraft CEO Liqun (Frank) Zhang, says winning an Aerokurier Innovation Award two straight years indicates the trust and passion Aerokurier readers have for the DA50 RG.
"It shows that we are setting the right accents with this aircraft," says Zhang. "Pilots and aviation enthusiasts were eagerly waiting for the outstanding combination the DA50 RG delivers in the single-engine piston class—retractable gear, the biggest cabin in its class, and a sustainable jet-fuel engine together with Diamond's Safety DNA. There is no such aircraft in the market combining these features and creating a new level of perfection."
The DA50 RG On Tour
Launched in 2020, the DA50 RG (for retractable gear) was designed with a limousine-like interior and all-carbon construction. The plane has hinged double-slotted flaps and a six-cylinder, 300-horsepower (223.7-kilowatt) Continental CD-300 jet fuel engine featuring a dual-redundant FADEC (full authority digital engine control) system. The aircraft has range of 750 nautical miles (1,389 kilometers) and maximum airspeed of 181-KTAS.
Find Your Diamond Aircraft
You'll find a range of new and used Diamond Aircraft for sale on Controller.com, including DA20s, DA40s, DA42s, and DA62s.
Source: Diamond Aircraft
Posted On: 7/8/2021 4:27:32 PM