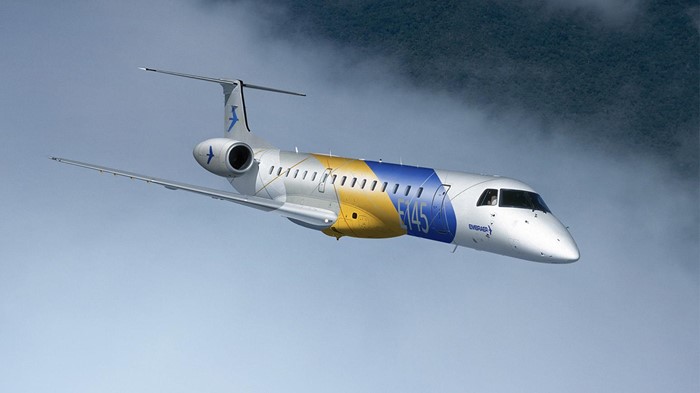 ---
Business jet buyers already have Embraer's Phenom 100EV, Phenom 300E, Praetor 500, and Praetor 600 executive aircraft models from which to choose. Now, the Brazilian aerospace manufacturer is making its ERJ 145 commercial jet available in a semi-private configuration as an aftermarket conversion.
Rather than the ERJ 145's typical 50 seats, the semi-private configuration allows for 16 to 28 premium seats, with one seat situated on each side of the center aisle. The conversion process also involves removal of overhead storage bins to create additional space. Conversions can take place at Embraer Owned Service Centers.
Semi-Private Aircraft On The Rise
Marsha Woelber, head of worldwide executive jets customer support and aftermarket sales for Embraer Service and Support, says the new conversion option was inspired by customers' changing needs. In this case, some of those needs relate to changes in how people are traveling due to the pandemic.
"We have identified this opportunity given the growing number of aircraft with semi-private interiors, which have doubled in two years from 21 in 2019 to more than 40 in 2021," Woelber says. "With the pandemic, we believe this number will increase even more."
---


Attention, First-Class Travelers
Embraer is developing a supplemental type certificate (STC) that makes the conversion possible for all ERJ 145s. The aerospace firm says it designed this conversion process with travelers who typically fly first class but may be looking for more suitable flight options in mind. With a semi-private conversion, for example, ERJ 145 passengers could access private terminals and avoid airport crowds.
The ERJ 145 is the ERJ family's largest variant, and was developed for regional transport. The LR version can fly up to 1,550 nautical miles (2,870 kilometers), and the XR version up to 2,000 nm (3,704 km), with a maximum cruise speed of Mach 0.78 with 50 seats. The ERJ 145 has been in operation more than 20 years and has charted 26 million flight hours. Embraer says 36 airlines in 26 countries use ERJ 145s.
Find Your Embraer Jet
Controller.com offers for-sale listings for a big selection of new and used Embraer aircraft every day, including ERJ 145, Phenom, and Legacy jets.
Source: Embraer
Posted On: 6/1/2021 2:46:35 PM