---
Dassault Aviation has added another design-related award to its trophy case for the upcoming Falcon 6X executive jet, winning a 2021 Red Dot: Best of the Best award for the aircraft's premium cabin design. In September, the 16-passenger Falcon 6X won a 2020 International Yacht & Aviation Award for design. Dassault plans to begin Falcon 6X deliveries next year.
The Small Touches
Dassault completed the maiden flight of the twin-jet Falcon 6X in mid-March at its Mérignac facility in France. Introduced in 2018, the jet has logged more than 50 flight hours. Dassault plans to add a second test aircraft to its Falcon 6X test program in May and a third with a full interior before late June.
The Red Dot jury committee recognized the aircraft's cabin, which Dassault says is the tallest and widest in business aviation, for its exceptional combination of form and function. "The committee determined that the cabin's flowing lines and environmental engineering create a unique, healthful, and productive environment offering a new level of personal comfort and space," Dassault says. The jury was also taken with the cabin interior's clean, modern lines and layout and small touches aimed at business passengers. Those include easy-to-use fingertip controls, overhead galley skylights, and mood lighting that promotes natural circadian rhythms.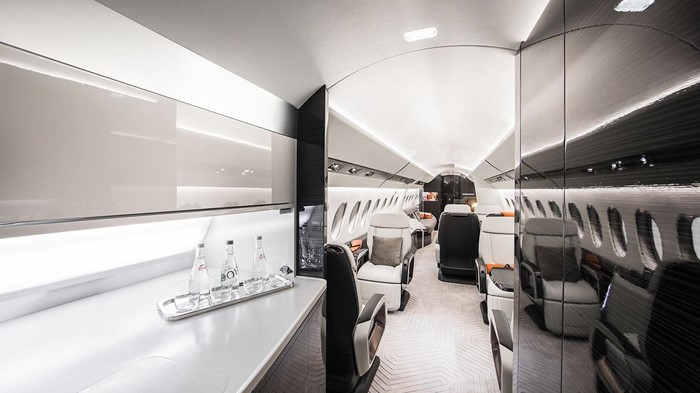 ---


Cabin Comfort & More
Dassault says the Falcon 6X is creating a new ultra-widebody business jet category. The jet's cabin will span 40.4 ft. (12.3 m) long by 6.5 ft (1.98 m) high by 8.5 ft (2.59 m) wide. It will feature 30 extra-large windows in addition to skylighting, and utilize an advanced cabin filtration and circulation system from Liebherr-Aerospace. The jet's Pratt & Whitney PW812D engines will enable a top speed of Mach 0.90 and a range of 5,500 nautical miles (10,186 kilometers), allowing nonstop travel from Los Angeles to Moscow or from London to Hong Kong.
Find Your Dassault Aviation Aircraft
Controller.com is the industry's go-to source for new and used Dassault Aviation aircraft for sale.
Source: Dassault Aviation
Posted On: 4/27/2021 10:11:05 AM