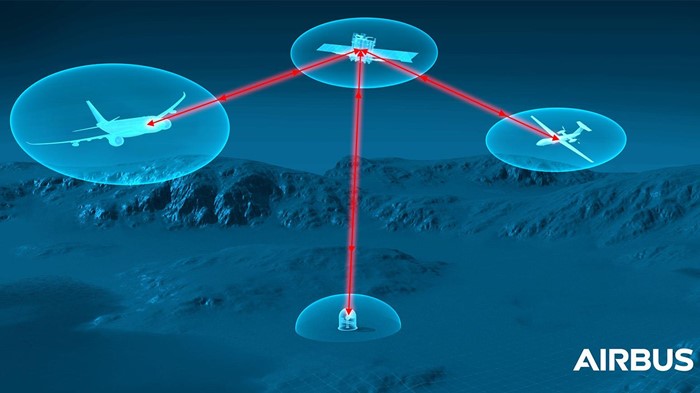 ---
Airbus announced early this month that it has begun work with the Netherlands Organisation for Applied Scientific Research (NSO) on an aircraft laser communication terminal demonstrator called "UltraAir." The terminal will enable laser connections between an aircraft and satellites in geostationary orbit at 22,300 miles (36,000 kilometers) above Earth. The goal of the project is to provide military, commercial, and other aircraft with a secure, incredibly fast data and communications link with various systems on the ground and would replace traditional satcom radio-frequency bands, which are experiencing bottlenecks as demand increases.
"Unprecedented Transmission Rates"
Airbus says laser communication technologies are the next revolution in satellite communications. In the coming decades, such technologies will introduce "unprecedented transmission rates, data security, and resilience to meet commercial needs," it says. UltraAir is part of Airbus' overall strategy to advance laser communications and leverage its benefits to provide multi-domain collaboration for government and defense customers.
The aerospace manufacturer says the terminal demonstrator is the next step toward a future UltraAir product that will potentially be capable of transmission rates up to several gigabits per second, and which will include robust anti-jamming capabilities and a low possibility of interception.
"In this way, UltraAir will not only enable military aircraft and Unmanned Aerial Vehicles to connect within a combat cloud, but also in the longer term, allow airline passengers to establish high-speed data connections thanks to the Airbus SpaceDataHighway constellation," Airbus says. SpaceDataHighway satellites leverage European Data Relay System (EDRS) laser communication infrastructure that Airbus owns and operates and that relays data collected by observation satellites to Earth in near real time.
Find Your Airbus Aircraft
Airbus says Airbus Defence and Space in the Netherlands will eventually produce the terminals. Airbus' Tesat subsidiary is providing technical expertise and will assist in testing. Final in-air UltraAir verification testing is expected in mid-2022.
You'll find a selection of new and used Airbus aircraft for sale every day on Controller.com, including jets and turbine helicopters.
Source: Airbus
Posted On: 4/14/2021 4:57:03 PM