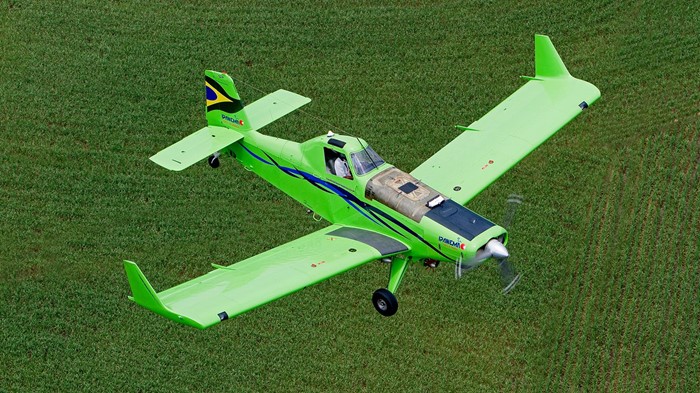 ---
The first two months of 2021 were good ones for Embraer, the Brazilian-based manufacturer of executive, commercial, defense and security, and agricultural aircraft. The company reports that its agricultural aviation division sold 19 of the firm's EMB-203 Ipanema single-seat planes in February and 27 overall already this year. That two-month sales volume is already 8% higher than Embraer's total sales for this aircraft in 2020. The company says the two consecutive months of high sales also reflect the positive health of Brazil's agribusiness market.
The Ag Market Leader
The Ipanema was introduced in 1970, and it entered production in 1972. The series' latest Ipanema 203 variant was certified in 2015; Embraer says it's the world's only airplane to run on ethanol. "This model guarantees more agility, efficiency, and productivity, in addition to the lowest operating cost in the category," Embraer says. Embraer increased the Ipanema 203's wingspan to 43.6 feet (13.3 meters) and enhanced its wing profile to enable a greater range of pesticide applications. Along with spraying fertilizers and pesticides, the plane is used for seeding, vector and larvae control, and river settlement applications. It's equipped with a single 320-horsepower (238.6-kilowatt) six-cylinder Lycoming IO-540-K1J5 powerplant.
Brazil's Midwest region is where Ipanema demand remains most intense, but Embraer says sales are also on the rise in other regions, largely driven by the demand for agricultural crop-dusting services. The manufacturer has delivered nearly 1,500 Ipanema units overall, and the model has a 60% share of the Brazil ag segment. "Its role in precision agriculture combines high technology and continuously evolves to meet the requirements of high productivity and low operating cost," Embraer says.
Find Your Embraer Aircraft
Controller.com is your leading source for new and used piston and turbine agricultural aircraft for sale every day, as well as a big selection of Embraer aircraft for sale.
Source: Embraer
Posted On: 3/9/2021 9:56:43 AM