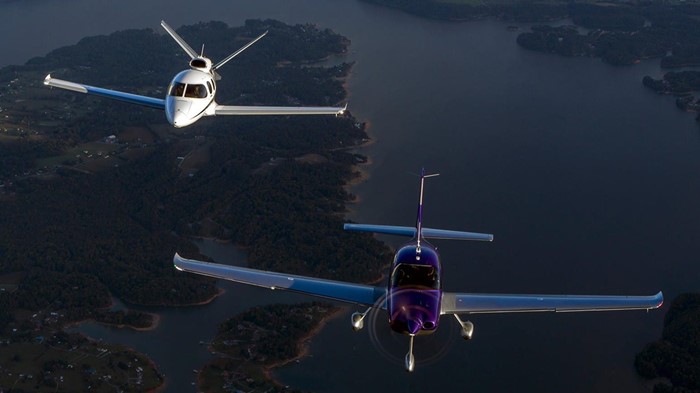 ---
Cirrus Aircraft announced recently that it delivered 346 SR Series airplanes last year, making the series the industry's best-selling high-performance piston aircraft for the 19th straight year. Cirrus has now delivered 300-plus SR Series annually for seven consecutive years. The manufacturer says it also delivered 73 Vision Jet aircraft in 2020, making it general aviation's best seller for two straight years, Cirrus claims. Worldwide deliveries now top 245 for the Robert J. Collier Trophy-winning Vision Jet, which Cirrus calls "the world's first single-engine Personal Jet." Furthermore, more than 450 pilots have earned a Federal Aviation Administration (FAA) type rating in Vision Jets.
8,000 & Counting
There are now 8,000-plus SR Series aircraft owners worldwide and more than 245 Vision Jet operators, Cirrus says. The SR Series features the SR20, SR22, and turbocharged SR22T models, which combined have accumulated 11 million-plus flight hours in over 60 countries. The series launched in 1999 with the SR20, designed for business aviation and trainer applications; the aircraft also introduced the Cirrus Airframe Parachute System (CAPS).
Last year, Cirrus began delivering the all-new sixth-generation 2020 G6 SR Series, its most technologically advanced SR model yet. That model introduced the Cirrus Aircraft App, which is powered by the Cirrus IQ platform and provides a real-time digital connection to the plane from nearly anywhere in the world. This January, meanwhile, Cirrus announced a new eight-plane run of the 8000 Limited Edition SR Series plane set for deliveries this year to commemorate the company's 8,000 SR Series delivery milestone.
The Personal Jet
Cirrus launched the Vision Jet in 2016, claiming it helped define a new "Personal Jet" category. Vision Jets feature the FAA-certified Safe Return emergency Autoland system that enables passengers to push an overhead button to activate Safe Return, which assumes flight control and autonomously flies the jet to the nearest appropriate airport for safe landing. Autoland is supported by jet's Garmin-powered Cirrus Perspective+ flight deck.
In 2020, Cirrus also announced the Vision Jet-based VisionAir ownership program, a turnkey solution providing everything needed to own, operate, and manage a Vision Jet. In addition, charter service operator Verijet began operation of an all-Vision Jet fleet supporting point-to-point short-haul flights in the United States in 2020, another highlight for the Vision model family.
Find Your Cirrus Aircraft
Controller.com offers a big selection of new and used Cirrus airplanes for sale every day, including SR20s, SR22s, and Visions.
Source: Cirrus Aircraft
Posted On: 3/30/2021 10:06:46 AM