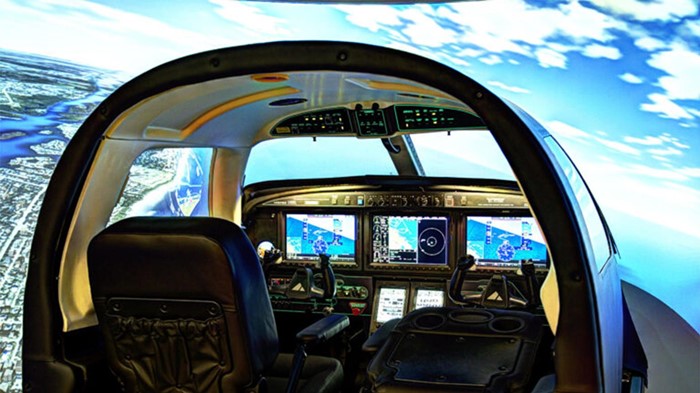 ---
Piper Aircraft recently announced that flight training for the M600/SLS (Safety, Luxury, Support) aircraft from its single-engine M-Class Series is now available on a new simulator device. Legacy Flight Training, Piper-authorized training provider for M600 business planes and all factory-new aircraft, is providing training on a M600/SLS Simulator provided by simulation equipment and technology provider FRASCA. The latter has reportedly delivered more than 3,000 simulators worldwide.
Further Enhancing Safety
Piper says the new multi-panel simulator uses a Piper-sourced M600 fuselage, pilot seating, sub panels, switching, and flight controls to provide real-world model-specific training for all M600 aircraft. The system is equipped with the same Garmin G3000 avionics suite that supports Piper's HALO safety system, which includes Garmin Autoland digital technology. Autoland enables a plane to land safely at the nearest appropriate airport in the event that the pilot becomes incapacitated.
Ron Gunnarson, Piper Aircraft vice president of sales, marketing, and customer support, says safety has always been a predominate theme with Piper and its products. "Piper was the first OEM to certify Autoland in a general aviation aircraft," he says. "It is fitting that we have a device that can further enhance safety by providing customers with a high-fidelity, realistic training environment."
Legacy Flight Training owner Bill Inglis says that compared to ground and flight training alone, simulators enable pilots to obtain a higher degree of knowledge, readiness, and safety.
---


Find Your Piper Aircraft
Piper's six-seat M600/SLS model is designed for business and personal use. Its single Pratt & Whitney PT6A-42A engine provides 600 shaft horsepower and helps support a 1,658-nautical-mile (2,748-kilometer) range. Along with Autoland, the plane's Garmin G3000 avionics suite includes Auto-Throttle, Emergency Descent Mode, Electronic Stability and Protection, Surface Watch, Safe Taxi, and Flight Stream 510 safety features.
You'll find hundreds of new and used Piper aircraft for sale every day on Controller.com, including M600s like the M600/SLS.
Source: Piper Aircraft
Posted On: 2/11/2021 11:13:29 AM