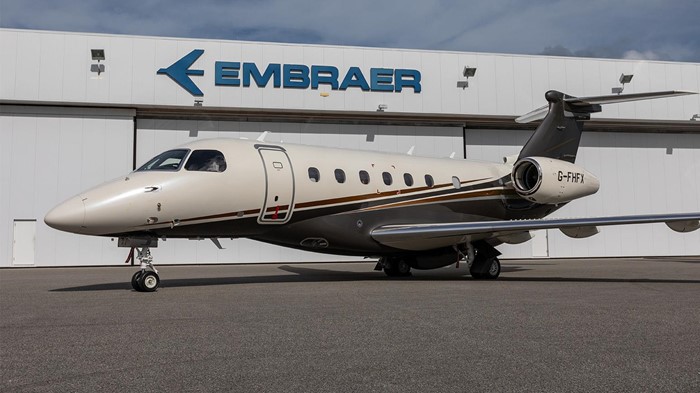 ---
In its recently released deliveries report for Q4 2020, jet aircraft maker Embraer says its combined executive and commercial aviation deliveries were down 10% from the same quarter in 2019 and down 35% for all 2020. Not surprisingly, the Brazilian firm pointed to the COVID-19 pandemic as heavily impacting deliveries, commercial deliveries in particular. The good news is Embraer says deliveries accelerated in Q4 2020. At 2020's end, Embraer's firm order backlog was $14.4 billion.
Fourth Quarter Highlights
Embraer's executive deliveries outpaced its commercial ones both for the fourth quarter and for all of 2020. Total quarter deliveries were 71, including 43 executive (23 light and 30 large business jets) and 28 commercial jets. Embraer delivered 130 jets during 2020, including 44 commercial and 86 executive (56 light and 30 large) deliveries. In 2019, it delivered 198 jets.
Embraer's 4Q 2020 was highlighted by the first jet delivery in a fleet of super-midsized Praetor 600s heading to launch partner Flexjet, a luxury private jet company using the Praetor 600 in its "burgeoning" European operations. As the Praetor lineup's launch partner, Flexjet received the first Praetor 500 delivery in 2019. Its fleet deal with Embraer has a $1.4 billion value and includes Phenom 300 jets. Embraer also announced a unique partnership with Porsche during Q4 called "Duet" that will produce a limited-edition Phenom 300 and Porsche 911 Turbo S combination offering.
Find Your Embraer Aircraft
You'll find a variety of new and used Embraer aircraft for sale every day on Controller.com, including Phenom and Legacy models, among others.
Source: Embraer
Posted On: 2/16/2021 5:09:13 PM