---
Textron Aviation is set to deliver its first Beechcraft King Air 260 aircraft to include a cargo door as part of a contract announced this week with Air Archipels. Along with the cargo door-equipped 260C, the Tahiti-based private air travel provider will receive a standard twin-engine King Air 260 turboprop, which Textron says is "the most popular business turboprop in the world." Deliveries are set to take place later this year. The aircraft join Air Archipels' current fleet of King Air B200 and DHC6 Twin Otter aircraft.
To The Rescue
Founded in 1996, Air Archipels says it completes roughly 3,000 flight hours annually, with most being medical emergency evacuations. Its King Air 260C will be equipped for air ambulance missions, complete with a LifePort medical interior and the aforementioned cargo door for easier passenger loading and unloading. In an air ambulance role, the plane's climate-controlled cabin will provide critical care for two patients. The 260C also supports unimproved runway access for reaching remote locations, and owners can configure it for enhanced payloads and with other life-support systems.
Textron Aviation Vice President of Special Mission Sales Bob Gibbs says the King Air is the world's turboprop special-missions leader due to its unmatched capabilities and reliability. "Continuing to be the supplier of choice for emergency services in French Polynesia is a testament to the King Air's performance when each minute matters," he says.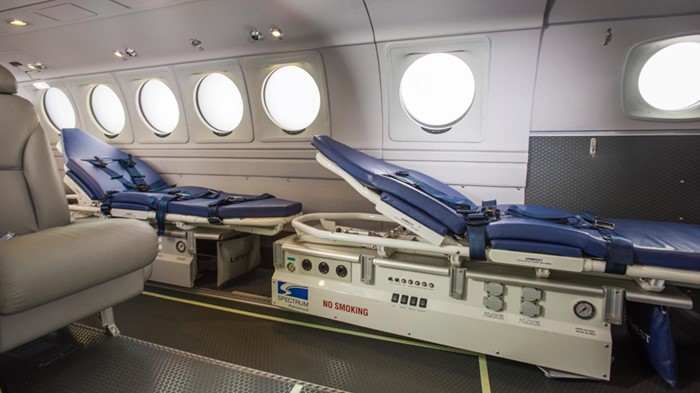 ---


Serving Business Users, Too
Air Archipels also provides private air service to VIPs, government officials, and business users. Its new nine-passenger King Air 260 will be equipped with twin Pratt & Whitney Canada PT6A-52 engines and will have a 1,720-nautical-mile (3,185-kilometer) range. It provides a 2,112-foot (643-meter) takeoff distance and supports a 3,760-pound (1,705.5-kilogram) useful load. The plane features the IS&S ThrustSense Autothrottle system that helps reduce the pilot's workload, and incorporates a new digital pressurization system controlled via the flight management system.
Find Your Beechcraft King Air
Controller.com offers for-sale listings for hundreds of new and used Beechcraft aircraft every day, including King Air 250s, 300s, 350s, and more.
Source: Textron Aviation
Posted On: 1/29/2021 12:10:52 PM