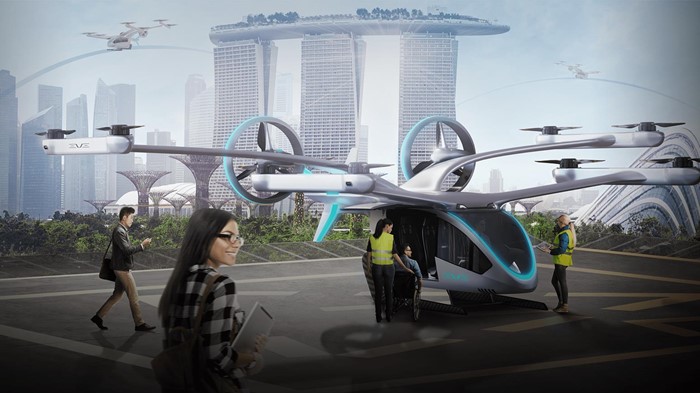 ---
Embraer has announced that a consortium of urban air mobility and aviation companies charged with working toward integrating air taxis and electric vertical takeoff and landing vehicles (eVTOLs) into UK airspace has begun developing concepts to do so. The consortium is partnering with the UK Civil Aviation Authority (CAA) as part of its Future Air Mobility Regulatory Sandbox. Eve Urban Air Mobility System, the first company to graduate from Embraer's market accelerator EmbraerX subsidiary, is heading up the consortium. The CAA's Sandbox is designed to explore aviation innovations aligning with its safety, security, and consumer protection core principles.
Harmonizing Low-Level Airspace
Eve is focused on accelerating the Urban Air Mobility (UAM) ecosystem, and it's also developing an eVTOL, along with associated eVTOL services, a support network, and urban air traffic management solutions. David Tait, CAA head of innovation, says adding the Eve-led consortium to the Sandbox will help efforts toward "harmonizing the low-level airspace, which will support the development of urban and regional air mobility operations across the UK."
Consortium members also include Heathrow Airport, London City Airport, NATS, Skyports, Atech, Volocopter, and Vertical Aerospace. The group is studying how eVTOLs could transport passengers and cargo across urban and regional areas, such as from London City Airport to Heathrow Airport while making stops along the way. Data from simulations will help policymakers develop community-friendly rules, mitigate noise impacts, and draft airspace procedures for future flight tests, Embraer says. Eve's Vice President of Business Development David Rottblatt says that in working with the CAA, Eve aims to show the public why "regulatory support is required to build eVTOL-specific routes."
Find The Right Embraer Aircraft
You'll find a big selectin of new and used Embraer aircraft for sale every day on Controller.com, including Legacy and Phenom business jets.
Source: Embraer
Posted On: 1/25/2021 11:34:02 AM