---
Boeing and Irish low-fare airline Ryanair have announced a deal estimated at $7 billion last week in which the European airline agreed to purchase 75 additional Boeing 737 MAX aircraft. The deal comes weeks after the Federal Aviation Administration certified the MAX to return to passenger service. Aviation agencies around the world grounded the aircraft in March 2019 following two crashes involving numerous fatalities.
"Boeing remains focused on safely returning the full 737 fleet to service and on delivering the backlog of airplanes to Ryanair and our other customers," says Boeing President and CEO Dave Calhoun. "We firmly believe in this airplane, and we will continue the work to re-earn the trust of all of our customers."
Returning To Normal
Ryanair's recent order pushes its total orders for MAX aircraft from 135 to 210 with an overall value of more than $22 billion. Ryanair will receive the 737 8-200 variant configured with 197 seats, which Ryanair says will help increase revenue potential while reducing fuel usage by 16% compared to its previous aircraft. Boeing will deliver the jets over the four years leading up to December 2024.
Ryanair says it was on pace to haul more than 150 million passengers last year before the COVID-19 pandemic. Its new 737 8-200 aircraft will enable it to expand its low-fare services to new European Union markets and incentivize European travelers and its travel industry toward recovery as vaccines roll out and life returns to normal.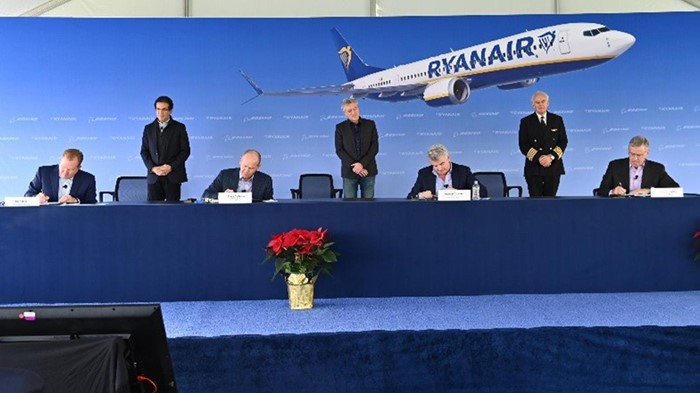 ---
"Our customers will love the lower fares, which these aircraft will enable Ryanair to offer starting in 2021 and for the next decade, as Ryanair leads the recovery of Europe's aviation and tourism industries," says Ryanair Group CEO Michael O'Leary.
Find The Right Boeing Aircraft
Controller.com has a big selection of new and used Boeing aircraft for sale every day, including a number of 737s.
Source: Boeing
Posted On: 12/10/2020 4:05:36 PM