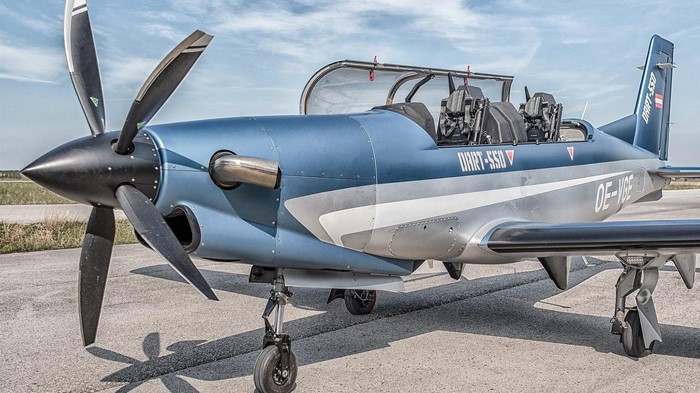 ---
GE Aviation recently announced that Diamond Aircraft's upcoming next-generation, single-engine DART-550 aerobatic turboprop trainer successfully made its first flight in early December at Wiener Neustadt East Airport (LOAN) in Austria near Diamond's headquarters. The plane was equipped with a new GE H75-A aerobatic engine rated for 550 shp (shaft horsepower), which GE developed at its turboprop headquarters in the Czech Republic. The DART-550 has previously completed test flights using a modified H75 engine.
"Radically Different"
Part of Diamond's DART Series of special-mission aircraft, the DART-550 will be a civil certified turboprop trainer constructed entirely of carbon fiber and available in several variants and engine power ratings. The aircraft stems from Diamond's DART-450 that first flew in 2016 and uses a 450-shp Motor Sich Al-450 engine. Diamond says the DART-550's airframe is designed to handle an engine providing up to 1,000 horsepower. The GE H75-A will enable the DART-550 to perform all aerobatic maneuvers, including inverted flights, maximum positive and negative g-maneuvers, and zero-g maneuvers, GE says.
---
"Today's new generation of aerobatic and trainer aircraft demand more performance through different measures," says GE Aviation Czech Executive Director Milan Slapak. "For an engine, these measures include greater operational efficiency, lower fuel consumption and emissions, high-performance onboard electronics, and weight savings optimized by cutting-edge materials."
The GE H75-A will meet such demands, he says. Slapak says the "radically different" engine will introduce a turboprop engine to this power class with an electronic engine and propeller control unit that enables training flying with single-lever control, replicating a jet-piloting experience.
Find Your Diamond Aircraft Plane
Controller.com is the industry's go-to source for new and used Diamond aircraft, including DA-20s, DA-40s, and DA-42s.
Source: GE Aviation
Posted On: 12/15/2020 4:33:25 PM