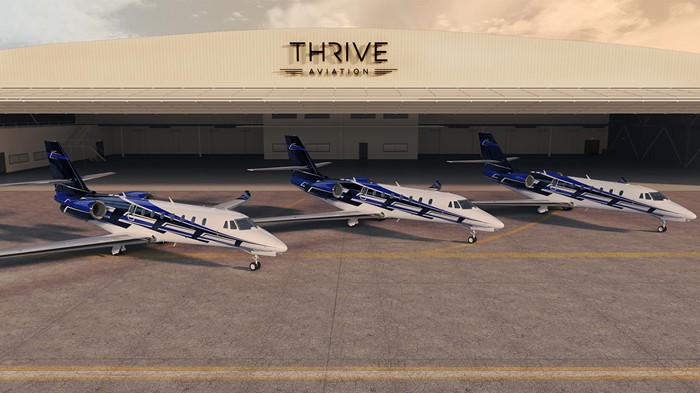 ---
Private aviation company Thrive Aviation will boast 10 Cessna Citation jets by the end of 2020 when three new Cessna Citation Sovereign+ business jets join the fleet.
"Since the global COVID-19 pandemic began, more people are looking to private aviation as a means of traveling while limiting the spread of the virus," says Thrive Aviation CEO Curtis Edenfield. "The delivery of these new aircraft will help us support increased demand and provide our clients with the well-being and peace of mind they seek for their families and businesses."
Filling A Need
Thrive Aviation recently opened a corporate headquarters at Henderson Executive Airport, and the company's footprint in Las Vegas also includes an expanded, 21,000-square-foot private hangar at Las Vegas McCarran International Airport. The soon-to-arrive Citation Sovereign+ jets will serve to present Thrive Aviation customers with increased charter options. The rest of the of fleet includes two Cessna Citation M2 entry-level jets, four Cessna Citation CJ3+ light jets, and one Cessna Citation XLS+ midsize business jet.
---


More On The Sovereign+
The Citation Sovereign+ is a 12-passenger business jet with a 3,200-nautical-mile (5,926-kilometer) range. The jet is known for its short takeoff field length at just 3,530 feet (1,076 kilometers) and ability to land on smaller runaways and airports surrounded by obstacles, such as destinations like Aspen, Hilton Head, and Ocean Reef.
Find Your Cessna Citation Aircraft
Controller.com has a huge selection of new and used Cessna aircraft for sale every day, including jets like the Citation Sovereign+.
Source: Textron Aviation
Posted On: 11/17/2020 3:35:10 PM