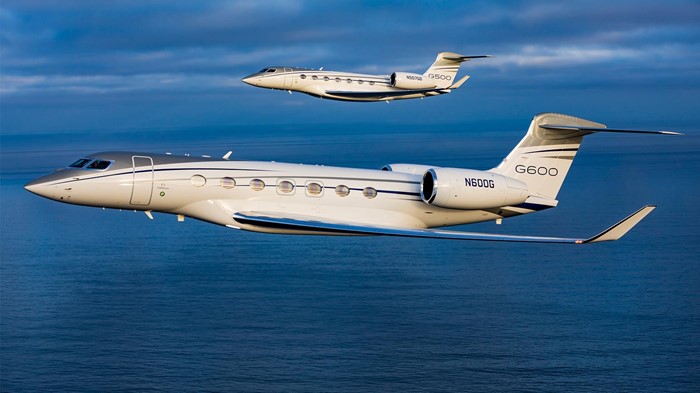 ---
Gulfstream Aerospace announced recently that it has increased the flight ranges for its G500 and G600 business jets. At a high cruise speed of Mach 0.90, the G500's range increases to 4,500 nautical miles (8,334 kilometers), and the G600's to 5,600 nm (10,371 km). At a long-range cruise speed of Mach 0.85, the G500 now has a 5,300-nm (9,816-km) range, and the G600 has a 6,600-nm (12.223-km) range at that speed. Introduced together in 2014 with clean-sheet designs seating up to 19 passengers, both jets have a maximum operating speed of Mach 0.925 using twin Pratt & Whitney PW814GA engines.
Payload Increase, Too
On top of the G600's extended ranges, that aircraft also now offers owners an increased payload capacity with full fuel. Gulfstream says through "advanced manufacturing and precision-build expertise," it was able to reduce the G600's basic operating weights by 570 pounds (259 kilograms) over original values. Thus, the jet's full-fuel maximum payload is now 2,600 lbs. (1,179 kg).
Gulfstream President Mark Burns notes the latest enhancements are already in place for in-service aircraft with no modifications necessary. "The G500 and G600 have been exceeding expectations since they entered service," says Burns. "This latest demonstrated range increase provides further proof of the tremendous efficiency and versatility of these aircraft. The Gulfstream team is always looking for opportunities to improve aircraft capabilities and the customer experience, and we are pleased to deliver another performance enhancement for both existing and future customers."
Find Your Gulfstream Aircraft
Visit Controller.com for a big selection of new and used Gulfstream aircraft for sale every day, including G500s, G280s, G450s, G550s, and GIVSPs.
Source: Gulfstream
Posted On: 11/4/2020 4:30:55 PM