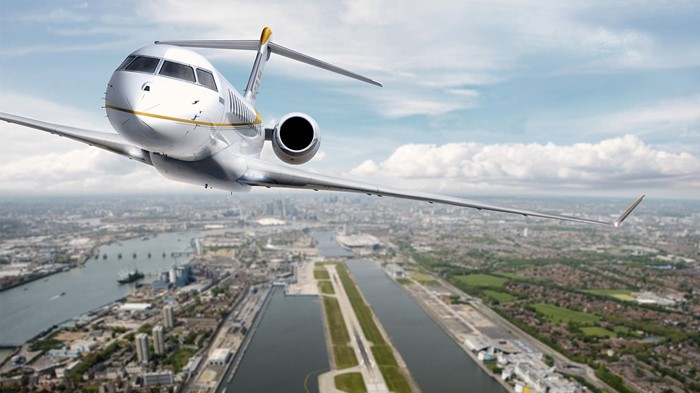 ---
In a report concerning its 2020 third-quarter financial results, Bombardier offered details about its progress toward selling its Bombardier Transportation rail division and transitioning to a "pure-play business aviation company." Bombardier inked a definitive sale and purchase agreement in September with Alstom to acquire its Transportation division for $8.4 billion. Alstom shareholders recently approved the terms, and Bombardier says it's on a solid path to close the sale in Q4 2021.
"We are very excited about our future as a focused business jet company, about our opportunities to grow the services business, and to leverage our industry-leading product portfolio," Bombardier President and CEO Éric Martel said. "We look forward to sharing the details of our plans in the near future, as we finalize our debt management strategy and cost-cutting initiatives to ensure our profitability in the current market and strong growth once the pandemic subsides."
Business Aircraft Revenue Up
During Q3 2020, Bombardier delivered eight of its flagship Global 7500 business aircraft; the company reports that it expects to deliver 12 more in Q4 2020. While Bombardier's total Q3 2020 revenues were down 5% year over year to $3.5 billion, business aircraft revenues were up 10% year over year to $1.2 billion, and "more than offset lower service revenues as international border restrictions, reduced business activity, and travel continues to pressure business jet utilization," the company stated. Bombardier business aircraft backlog was $12.2 billion for Q3, and overall business aircraft deliveries totaled 24, down seven from Q3 2019.
Along with the Global 7500, Bombardier produces Challenger 350 and 650 and Global 5000, 5500, 6000, 6500, 7500, and 8000 business aircraft. It also produces the Learjet 75 Liberty, which entered service in October. In its shift toward becoming a pure-play business aviation firm, Bombardier has undertaken several recent projects to expand and enhance its worldwide customer service network, including in Berlin, Miami, London, Singapore, and Melbourne.
Find Your Bombardier Aircraft
Controller.com has a big selection of new and used Bombardier business jets for sale every day, including Global, Challenger, and Learjet aircraft.
Source: Bombardier
Posted On: 11/6/2020 3:36:11 PM