---
To help connect with customers and pass on the safety, comfort, and other benefits of its business aircraft, Bombardier hosted its first virtual online guided tour event in the first full week of October. The four-day event featured personalized, by-appointment tours in which Bombardier experts interacted with customers virtually exploring its Learjet 75 Liberty (which entered service earlier this week), Challenger 350, Global 6500, and flagship Global 7500 business jets. Additionally, Bombardier has begun allowing members of the public to explore its light, midsize, and large-cabin jets via self-guided, online, interactive tours using a new Virtual Showroom feature on the Bombardier website.
Step Onboard—Virtually
"There's a strong interest in Bombardier aircraft as more and more people explore their business travel options," says Peter Likoray, senior vice president, sales and marketing, new aircraft, Bombardier Business Aircraft. "We created this virtual event in order to connect with customers, and to offer convenient and personalized access to our stunning aircraft and our expert team."
Bombardier also invited the public to explore a different aircraft each day of the virtual event on its Instagram, Facebook, Twitter, and LinkedIn accounts.
Socially Distant Showroom
The new Virtual Showroom feature joins other tools available to customers on the Bombardier Business Aircraft website. These include a Needs Assessment Tool that asks customers five questions to pinpoint their ideal Bombardier aircraft. The tool takes less than 2 minutes to use, and involves customers selecting their current mode of travel (owner, fractional ownership, charter, etc.) as well as detailing their expected travel distance, passenger capacity, number of living spaces, and desirable cabin features. An Aircraft Configurator tool, meanwhile, lets customers configure a Bombardier business jet of their choice with different floor plans, design schemes, and interior and exterior options.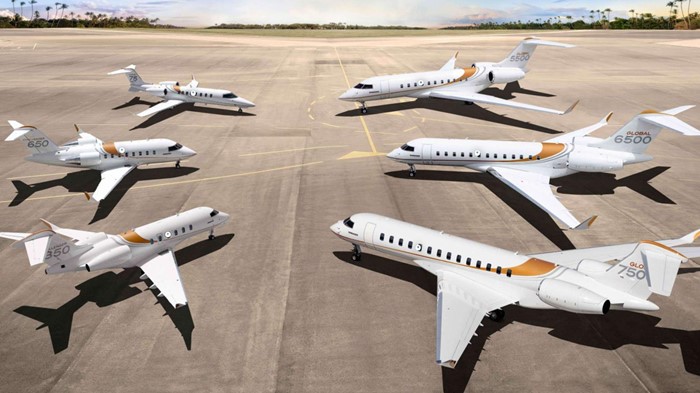 ---


Find Your Bombardier Business Jet
Controller.com is the aviation industry's top source for new and used jet aircraft for sale, including Bombardier Global models like 6500s and 7500s, Challenger aircraft like the 350, and Learjet business jets like the 75.
Source: Bombardier
Posted On: 10/8/2020 9:43:39 AM