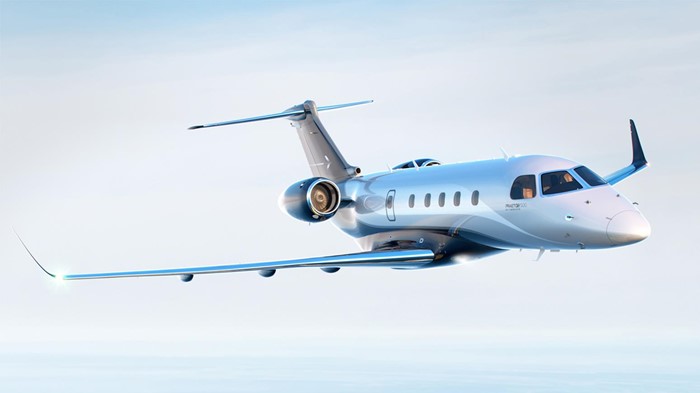 ---
Brazilian business jet manufacturer Embraer reported in late September that its midsize Praetor 500 and super-midsize Praetor 600 executive jets (both of which were introduced in 2018) have received Synthetic Vision Guidance System (SVGS) certification from Brazil's National Civil Aviation Agency, or ANAC (Agência Nacional de Aviação Civil), as well as from the Federal Aviation Administration (FAA). Embraer notes that pilots can use the SVGS with or without a head-up display (HUD).
Enhanced Operational Efficiency
The certifications mean SVGS is now available for new aircraft and as a retrofit for all Embraer Legacy 450 and 500 business jets and the Praetor 500 and 600 at any Embraer-owned or authorized service center. With the Praetor 500 and 600, SVGS is an addition to their Collins Aerospace Pro Line Fusion flight deck. Embraer notes SVGS is useable independent of its Embraer Enhanced Vision System (E2VS), and owners can install it with or without E2VS.
Embraer says SVGS provides pilots with a "dynamic perception of position, trend, and motion, facilitating the transition to utilizing visual references and enabling the safe completion of more missions during inclement weather and lower ceiling approaches." The system enables pilots to operate Praetor 500 and 600 aircraft to a 150-foot (45.7-meter) decision height rather than the regular 200-foot (61-meter) height, increasing operational efficiency and providing access to more airports during inclement weather and lower ceiling approaches. When used with E2VS, operational efficiency is further boosted for "for even better utilization" of the Praetor's short-runway performance, Embraer says.
Find Your Embraer Aircraft
Controller.com has a big selection of new and used Embraer business jets for sale every day, including Legacy and Phenom aircraft, among others.
Source: Embraer
Posted On: 9/30/2020 4:40:22 PM