---
Diamond Aircraft has announced that its new single-engine DA50 RG (retractable gear) piston aircraft has received European Union Aviation Safety Agency (EASA) type certification, and that deliveries to EU customers are scheduled to begin during the first quarter of 2021. The aircraft manufacturer expects to receive FAA certification for the craft by 2021's end.
"We are extremely proud to have received EASA type certification for our single-engine flagship, the DA50 RG," says Diamond Aircraft Austria CEO Liqun (Frank) Zhang. "The Diamond Aircraft team has done a tremendous job to make this possible. With the DA50 RG we are introducing an innovative 21st-century retract single that we are convinced the market is missing. We are simply overwhelmed by the huge interest, the number of inquiries and feedback we have been receiving for this game changer since the launch in June. We are looking forward to welcoming many proud DA50 RG pilots over the coming months and years."
DA50 RG Superlatives
Diamond uses such descriptions as "roomy luxury limousine-like interior," "remarkable handling," "generous rear baggage compartment," "striking ramp appeal," and "environmentally conscious and fuel-efficient jet-fuel engine" to describe the DA50 RG's various features and components. The company says the collective result is an aircraft that is "perfectly suited" for single-engine pilots seeking additional seats, as well as charter operators and corporate flight departments looking to complement their larger aircraft with a low-cost alternative for shorter missions.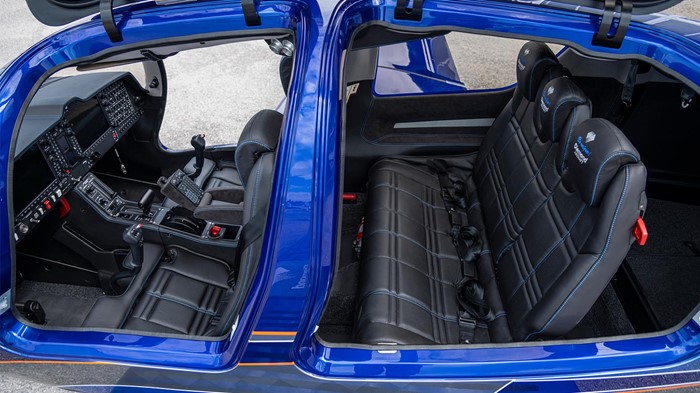 ---
The DA50 RG boasts all-carbon fiber composite construction and double-slotted flaps that enable "high lift and superior slow speed behavior." It's equipped with a twin-turbocharged, liquid-cooled, six-cylinder Continental CD-300 jet-fuel engine rated for 300 horsepower that features Common Rail Direct Injection and a dual-redundant FADEC (full authority digital engine control) system. Winner of a 2020 Aerokurier Innovation Award, the aircraft also features an "extra-large, luxurious cabin" that Diamond says is one of the widest and most comfortable in its class, as well as a Garmin G1000 NXi flight deck with three-axis GFC700 Automated Flight Control System. The DA50 RG supports a 750-nautical-mile (1,389-kilometer) maximum range with 30-minute fuel reserve and 20,000-foot (6,096-meter) ceiling.
Find Your Diamond Aircraft Plane
Controller.com is the aviation industry's leading source for new and used single- and twin-engine piston aircraft for sale, including Diamond Aircraft planes like DA40s, DA42s, and DA62s.
Source: Diamond Aircraft
Posted On: 9/11/2020 2:50:47 PM