---
Textron Aviation uses words like "legendary" and "iconic" to describe its Beechcraft King Air turboprop lineup, calling it the "best-selling turboprop family" ever. As of August, the family—from which about 7,600 aircraft have been delivered since 1964—has a new top-of-the-line model in the King Air 360. Complete with airframe, avionics, and interior updates, the model and its extended range King Air 360ER variant assume the flagship mantle from the King Air 350 and 350ER; production is underway, with deliveries set for this fall.
"An Enhanced Flying Experience"
Using twin Pratt & Whitney Canada PT6A-60A engines, the nine-passenger King Air 360 provides an 1,806-nautical-mile (3,345-kilometer) maximum range, a top speed of 312 ktas (578 km/h), and a 35,000-foot (10,668-meter) maximum operating altitude. The 360ER's max range is 2,692 nm (4,986 km), with a top speed of 303 ktas (561 km/h) and the same top operating altitude. Textron Aviation President and CEO Ron Draper says extensive customer conversations factored into the aircraft's development, resulting in an aircraft that elevates the Beechcraft family with "superior features and engineering advancements designed to create an enhanced flying experience for passengers and crew alike."
---
Among the included updates is an Innovative Solutions & Support ThrustSense Autothrottle feature that automatically manages engine power from the takeoff roll through the climb, cruise, descent, go-around, and landing flight phases. This reduces pilot workload and prevents over-speed, under-speed, over-temp, and over-torque situations, Textron says. The cockpit also has a new digital pressurization controller that automatically manages cabin pressurization during climbs and descents for increased passenger comfort. The aircraft's Collins Aerospace Pro Line Fusion flight deck includes the corresponding pressurization gauges.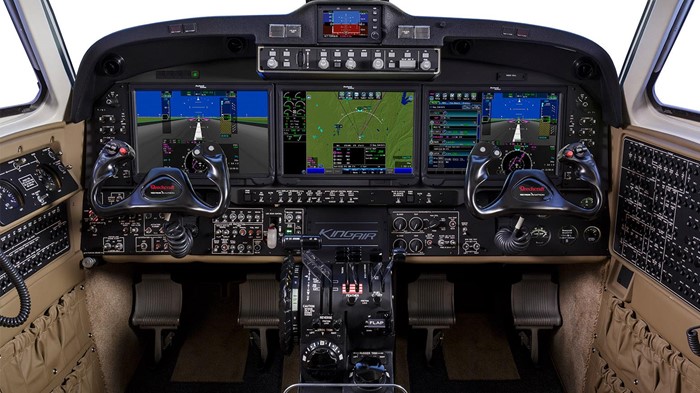 ---


Find Your Beechcraft Turboprop
Operators can expect such cabin-related upgrades as a 5,960-foot (1,816.6-meter) cabin altitude at a typical 27,000-foot (8,229.6-meter) cruising altitude, 10% lower than the King Air 350i's. Design-wise, the cabin's new look includes custom-built cabinetry, partitions, and side ledges, along with upgraded materials and all-new interior schemes.
Controller.com is the industry's go-to source for new and used turboprops for sale every day, including Beechcraft models like King Air 350s.
Source: Textron Aviation
Posted On: 8/28/2020 5:39:02 PM