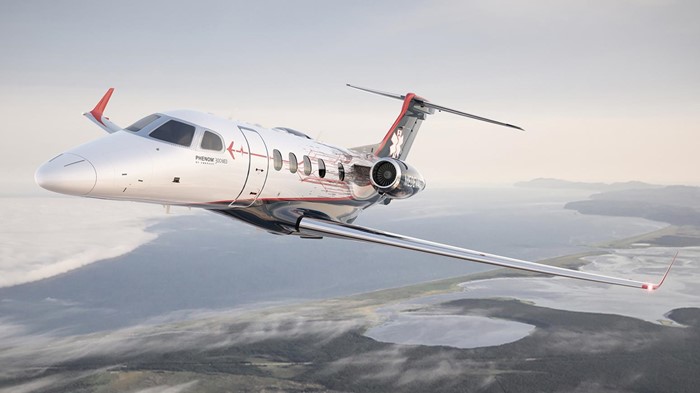 ---
Executive aircraft manufacturer Embraer announced on August 4 that it's partnering with umlaut and Aerolite on a new medevac solution based on its Phenom 300 series light jet called the Phenom 300MED. Also available as a retrofit, the 300MED is designed for civil and commercial applications, and Embraer's Services & Support organization will handle installations. Embraer and global consultancy and engineering firm umlaut are developing a set of configuration alternatives for the aircraft, and jointly developing and certifying a new supplemental type certificate that uses medical equipment from Aerolite.
Order Away
The 300MED configurations will feature hospital-grade trim, either one or two stretchers, and the ability to carry an incubator and other medical equipment. The configurations are "designed to be quickly and easily configured to meet the various needs of both healthcare providers and patients," Embraer says. Embraer President and CEO Michael Amalfitano says his company is "primed to immediately start taking orders for this unprecedented air ambulance solution."
---
Embraer has delivered more than 550 Phenom 300 Series aircraft since the jet's entry into service in 2009, and Aerolite has delivered 500-plus medevac interiors. umlaut Managing Director Tobias Geißinger says with Aerolite's aeromedical equipment in tow, the companies will provide a solution designed from the ground up that will "transcend the current market" including with "the flexibility for configuration and reconfiguration that simply isn't available today."
Find Your Embraer Aircraft
Embraer notes the Phenom 300MED will benefit from the Phenom 300 platform's low operating costs, high mission flexibility, state-of-the-art avionics, Mach 0.80 speed, and 2,010-nautical-mile (3,720-kilometer) range. "With best-in-class cabin altitude of 6,600 feet, passengers and crew enjoy more oxygen in the cabin. This feature equates to a healthier flight experience, which is essential for medical staff and patient care," Embraer says.
---
Controller.com is your go-to source for new and used Embraer business jets, including Phenom aircraft like the 300.
Source: Embraer
Posted On: 8/4/2020 3:10:57 PM